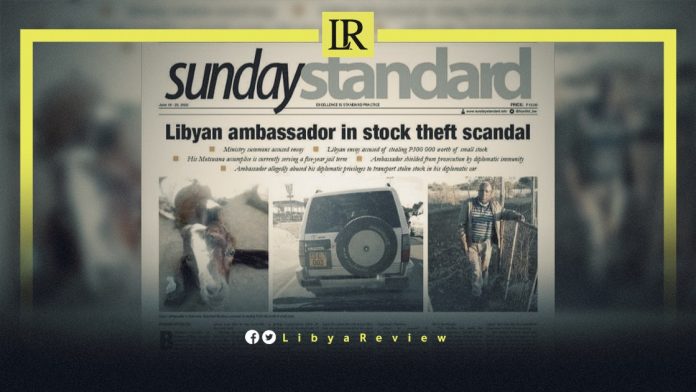 Source: Sunday Standard- Botswana's Ministry of Foreign Affairs recently summoned Libya's Ambassador in Gaborone Mahomed Musbah to inquire on allegations that he connived with a Motswana accomplice to steal small stock from a local farmer.
The ambassador's alleged Motswana partner in crime, Wiseman Ncube is currently serving a five-year prison term after he was convicted for stock theft.
Musbah was summoned to the Ministry of Foreign Affairs following a complaint by Motlhala Ketshabile & Company, the law firm representing Maaloso Modise, the aggrieved farmer.
The letter from the law firm dated 25 August 2021 and addressed to the Permanent Secretary in the Ministry of Foreign Affairs states that, "our above client requests your assistance in getting compensation either directly from one of the employees of the Libyan Embassy, one Mohamed Musbah (hereinafter, Musbah) or from the embassy itself. He instructs that Musbah stole goats worth P300 000.00 from him."
Modise's lawyers further claimed that, "in so doing he acted in cahoots with a Motswana, one Wiseman Dube, who has since been convicted by criminal courts and is currently serving a five-year sentence. According to the client, the only reason Musbah was not prosecuted is his enjoyment of diplomatic immunity. Client wants to be compensated and has instructed us to request your assistance, which we hereby do."
Under international law, foreign diplomats and family members enjoy certain protections that allow them to avoid prosecution for almost any crime unless the diplomat's home country waives immunity, according to the 1961 Vienna Convention on Diplomatic Relations.
Asked to respond to the stock theft allegations, Musbah engaged his lawyers Rahim Khan & Company who insisted that there was no theft in how their client handled the transaction.
Responding to Sunday Standard queries on behalf of Musbah, the law firm stated that, "it is correct that Mr Mahomed Musbha purchased two (2) goats from Wiseman Ncube but is totally incorrect that he did so knowingly.
"Mr Musbah was under the bona fide impression that Mr Ncube (Dube) was the owner of the goats as he represented himself as the owner. Mr Musbha only came to Botswana in the last few months and was not conversant with the law relating to the sale of the livestock."
Rahim Khan & Company further indicated that at no stage did Dube advise the ambassador that he was merely a herd boy nor did Dube supply him with any documentation whatsoever which was necessary.
The lawyers further stated that Musbah purchased two goods from Dube and he did not contact the owner because he was under impression that Dube was the owner and therefore he was negotiating with the proper person to purchase from.
The lawyers confirmed that the "Ambassador was summoned by the Ministry as the Ministry was of the view that this involved the Ambassador in his official capacity.
"When the theft was reported to the police and Ncube (Dube) was arrested the owner contacted the Embassy and demanded a substantial sum in compensation. As legal advisor to the Ambassador we advised him only to pay the value of the stock that was stolen," the lawyers stated.
"In conclusion the Ambassador who is from Libya is customed (sic) to a situation whereby livestock is purchased from anyone who is in possession of the livestock and therefore entered into this sale agreement in good faith. He was completely unaware of the situation in Botswana that thieves sometimes represent themselves as stock owners and this matter came as a huge shock to him," Rahim Khan & Company stated.
Police spokespersons, Near Bagali confirmed that Dube was arrested and prosecuted for the theft of the goats in question. He however would not be drawn into discussing the role played by Musbah in the matter.
In an interview with the Sunday Standard, Modise revealed that he reported to the police how the Libyan envoy abused his diplomatic privileges especially during last year's Covid-19 lockdown, where travel restrictions were in place. Since his diplomatic vehicle was shielded from police searches, he allegedly acted in cahoots with one Wiseman Dube to transport the goats from Gakutlo to Gaborone.
Modise explained that a lot of his goats had gone missing but he just assumed that they had strayed. It was only after he decided to put ear tags on them that it emerged that his goats were being stolen.
"I received a tip off from a whistleblower who informed me about some goats which were discovered at the embassy with ear tags intact.
"Two heads of the goats that I had ear tagged were found by someone at the embassy. I then opened a case of stock theft at the Police station. I approached Mogoditshane Police Station and they referred me to Central Police Station. Investigators in the matter uncovered how Ncube allegedly sold the goats to Musbah who bought them fully aware that they were stolen property.
Modise further stated that initially Musbah claimed that he had bought only one goat from Ncube but when Modise produced evidence of the two ear tags found at the embassy the envoy changed his story and claimed that he bought only two. Police investigations against Musbah however ceased after the envoy claimed diplomatic immunity.
During a meeting with Ministry of Foreign Affairs officials, they promised Modise that they would convince the ambassador to compensate him for only two goats.
Modise however rejected the proposal insisting that he had lost more goats and evidence in his possession indicated that Musbah may be responsible for the other unaccounted scores of missing goats.
Immediate comment from the Ministry was not available. Modise on the other hand is up against provisions of the Geneva Convention and his plight threatens to put diplomatic immunity on the spotlight