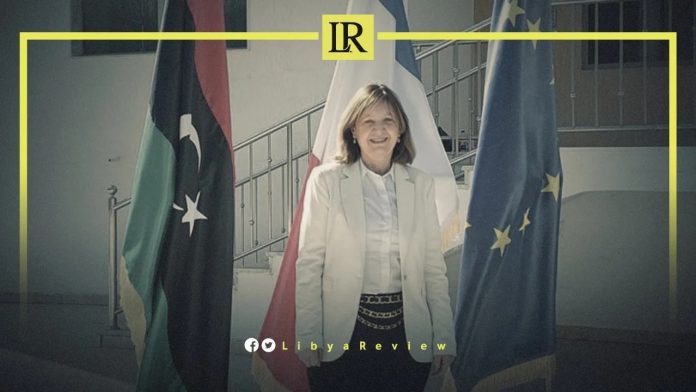 On Monday, French Ambassador to Libya, Beatrice Le Fraper du Hellen said that Paris supports efforts to hold Parliamentary and Presidential elections.
During a meeting with Deputy Head of the Libyan Presidential Council, Moussa Al-Koni, they discussed the latest political developments in Libya, and aspects of bilateral cooperation.
The Ambassador reiterated her keenness to strengthen cooperation between the two countries, and support stability in Libya. She praised the efforts of the Presidential Council to work for the success of the national reconciliation project, and to hold elections on a constitutional basis whose results are accepted by all parties.
Al-Koni confirmed the depth of relations between Libya and France, and expressed his aspiration for greater cooperation.
Earlier this month, French Foreign Minister, Catherine Colonna and her Algerian counterpart, Ramtane Lamamra held a telephone call, where they discussed several regional crises, especially Libya and Mali.
A spokeswoman for the French Foreign Ministry said in a statement that the cooperation between France and Algeria on these files is "pivotal." She explained that the two FMs expressed their "desire to continue the positive dynamic in all its dimensions that characterize relations between France and Algeria."
France's Special Envoy to Libya, Paul Soler said that Paris will play a positive role in maintaining stability in Libya. As well as ensure a political agreement is reached between the warring parties.
During his meeting with the Minister of Foreign Affairs, Najla Al-Mangoush, the French Envoy stressed the need to hold Parliamentary and Presidential elections, based on a consensual constitutional framework.
They also discussed the latest political developments, and ways to enhance bilateral cooperation, and strengthen lasting stability in Libya.