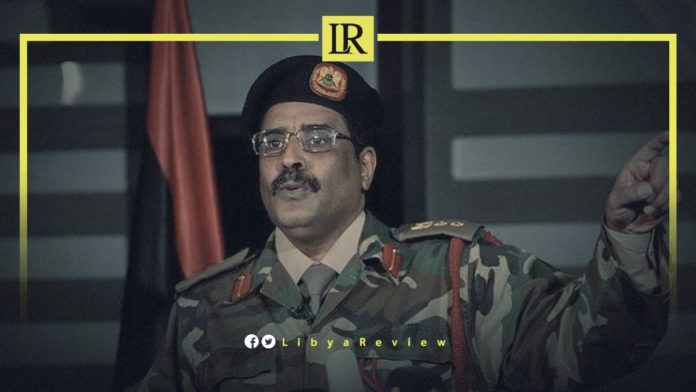 On Thursday, the official Spokesman for the Libyan National Army (LNA), Major General Ahmed Al-Mismari confirmed that the "military institution has nothing to do with any political strife in the country."
In press statements, Al-Mismari stressed that the LNA is committed to establishing the security of Libya, and is fighting against those seeking to destabilize the country.
He highlighted the LNA General Command's "unwavering support for the Libyan people's legitimate right to self-determination, and reaching an effective consensus to overcome the current crises."
Al-Mismari pointed out that the armed forces are working to "establish peace, stability, and security, and promote the prestige of the state." He also stressed the "right of the Libyan people to freely elect their President, without issue."
The Spokesman stressed the need to stop foreign interference and expel all foreign forces and mercenaries from the country. He also called for "seizing the opportunity to work on a unified law regulating the work of the military institution in the country."
Al-Mismari praised the outcome of the recent meeting between Lieutenant-General Abdulrazek Al-Nathouri and Major General Mohamed Al-Haddad in Cairo. This was attended by members of the 5+5 Joint Military Committee (JMC).
Lieutenant-General, Khairi Al-Tamimi said the meeting "is a continuation of a previous meeting within the framework of unifying the military institution, and building confidence between the two parties."
Last month, JMC member, Emarji Al-Amami said that the LNA deported 300 Sudanese fighters. He told Fawasel Media that the deportation came in accordance with the "goodwill initiative of the Libyan army," and that they are "waiting for a similar action from the other side in western Libya."