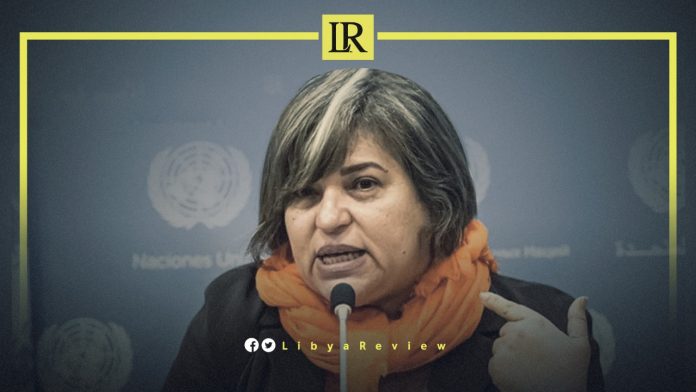 Member of the Libyan Political Dialogue Forum (LPDF), Amal Bugaighis called for Libya's rival legislatures to commit to their recent pledges made, regarding an agreement on the constitutional basis for the elections.
"It would be good if the two councils agreed on all of Libya's entitlements at this current critical stage, and pledged to implement the roadmap, but this alone is not enough. It is necessary to set the dates of entry into force, and stipulate that these dates are binding, definitive, and not regulatory," the LPDF member said
Bugaighis confirmed that the Presidential Council must be involved in implementing the roadmap, in accordance with Article 4. She added that the Presidential Council's terms of reference are not limited, and "has all the powers to intervene when any party fails to fulfil its obligations."
"I suggested to Stephanie Williams to impel the parties to sign what they have pledged. So that it does not go in vain, and that the Presidential Council should act as a guarantor. So that it has the right to intervene through executive and Presidential decrees. Civil society should mobilise their efforts, so that the people may believe the fact that there is a consensus that will not be undone as usual."
On Thursday, the Libyan Parliament announced the outcomes of the constitutional talks between the rival legislatures. This is aimed at breaking the deadlock over the rules for the long-awaited elections.
Parliament Speaker, Ageela Saleh and Head of the High Council of State (HCS) Khaled Al-Mishri met for three days to discuss the draft constitutional framework for elections.
In a statement, the Parliament said that "a state of consensus has been reached on most of the controversial constitutional issues, except for the conditions for running for the presidency."
The House stated that some of the contentious points included the ability for dual nationals to run for President, and sovereign positions.
It added that the two officials agreed to "draft a constitution aimed at building a civil and democratic state," in addition to "ensuring the participation of the Libyan people in building the state and formulating political and economic decisions"
Saleh and Al-Mishri also agreed that the seat of Parliament would remain in Benghazi, and the Senate in Sebha. The statement also indicated that "it was agreed that the Senate members would be equally elected between the three regions of Libya."