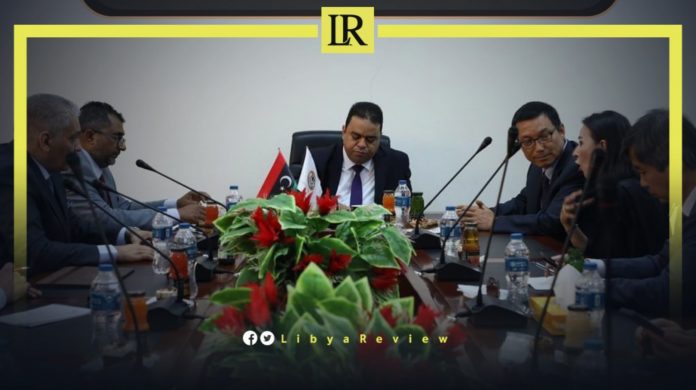 The Libyan Minister of Labour and Rehabilitation, Ali Al-Abed met with the Ambassador of the Republic of South Korea at the Libyan-Korean Center. The two parties discussed mechanisms of joint cooperation, especially in the field of training, and vocational training.
Al-Abed stressed the depth of bilateral relations between the two countries. He praised the efforts of South Korea in supporting the Libyan-Korean Center partnership for years.
The meeting also reviewed the "specializations and training projects that the Ministry of Labour intends to add. As well as the mechanisms to support the center with the capabilities and equipment it needs, to continue implementing the training programs and increase the rate of trainees' absorption."
The Korean Ambassador expressed his readiness to cooperate in various fields that serve the interests of both countries, especially in developing training in Libya. He indicated that Seoul will work to "increase the necessary support for the center in terms of equipment and devices to ensure the continuity of the training process."
He stressed that this is the beginning of a series of bilateral meetings between the two friendly countries, especially in the field of training and rehabilitation.
On Tuesday, the General Electricity Company of Libya (GECOL) signed a contract with the South Korean Daewoo Engineering & Construction Co. to resume its work at the stalled Zueitina Power plant.
In a statement, GECOL said that the agreement comes within the framework of the company's endeavour to complete its stalled projects. As well as ensure the immediate return of Korean companies to complete their contracted projects.
The Korean delegation touched on the company's hopes to resume its activities in Libya, and to contribute to projects related to the electricity sector.
Zueitina power station is a 770 MW oil, natural gas, and waste heat power station in Libya.