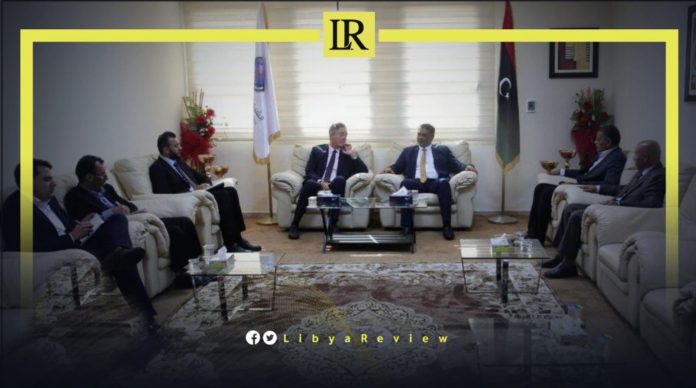 The Chairman of the General Electricity Company of Libya (GECOL), Wiam Al-Abdali met with the German Ambassador to Libya, Michael Ohnmacht in Tripoli. They discussed cooperating to develop the waning electricity network in Libya.
A Member of the Board of Directors, Engineer Abdel-Hakim Al-Ferjani also participated in the meeting.
They discussed accelerating the operation of the two emergency stations in the west of Tripoli and Misrata. These are being implemented by a coalition consisting of Germany's Siemens, and Turkey's Anka.
They also discussed conducting urgent and emergency maintenance for some power stations, and developing the electrical network. "On the sidelines of the meeting, the two sides discussed the possibility of benefiting from the expertise of German companies in the field of solar energy," GECOL noted.
Al-Abdali praised the great effort and cooperation provided by Siemens in Libya. In turn, Ohnmacht stressed he would urge German companies to exert more effort in providing the necessary support to GECOL.
Libya's Minister of Planning, Mohamed Al-Zaydani said that the electricity crisis in Libya is raging, and not caused by the government. He claimed that since 2013, an estimated 11 billion and 862 million dinars were spent on the development of the electricity sector.
He added that the Tobruk power station was also covered by about 500 MW, costing 500 million dinars. "We have ongoing projects worth about one billion that are related to production, transmission, control and distribution, and we have about 977 million dinars."
Libyan cities witnessed several large-scale protests that started on Friday, calling for the downfall of all government bodies and institutions, as well as the departure of mercenaries. They expressed their rejection of the poor living situation, political divisions, and the lack of services.
The protesters have called for elections as soon as possible, and for a solution to the electricity crisis.