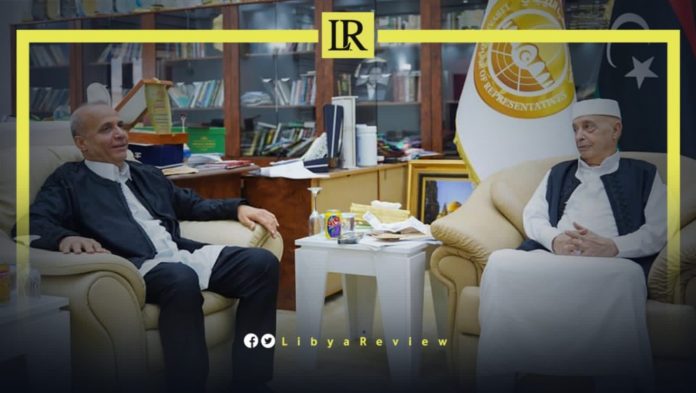 The Speaker of the Libyan Parliament, Ageela Saleh met with the Deputy Head of the Presidential Council, Abdullah Al-Lafi to discuss the "formulation of a comprehensive national initiative."
The initiative aims to "promote reconciliation efforts and bring views closer between Libyans. As well as address the controversial points in the draft constitution in order to agree on a constitution as soon as possible."
The meeting discussed "ways to address the controversial points in the draft constitution, in preparation for putting them up for discussion with the rest of the concerned parties."
The two sides affirmed that there "should be a single government capable of implementing the constitutional and electoral benefits."
The electricity and fuel crises were also discussed.
Al-Lafi supported Saleh's call regarding the necessity of investigating the causes of the electricity crisis. In order to "reduce the suffering of the Libyan people," according to the statement.
The meeting was attended by MP's Al-Mabrouk Al-Khattabi and Ayman Saif Al-Nasr.
Last month, Al-Lafi briefed Saleh on the proposal for the strategic vision of the National Reconciliation Project. This was launched in Tripoli on 23 June.
He stressed that the reconciliation project, "will address all important issues to end the transitional stages in the country, and reach the stage of permanent stability."
"It is a national project owned by the Libyan people, and it is free from all restrictions and directives," Al-Lafi said.
The launch of the project is one of the most important tasks of the Presidential Council.
On 05 April 2021, the Presidential Council officially announced the inauguration of a High Commission for Libyan National Reconciliation.