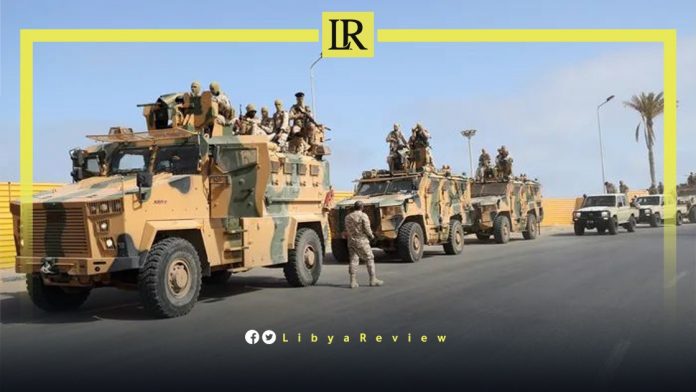 Convoys of armoured vehicles entered Tripoli, coinciding with the announcement by Libyan Prime Minister-designate, Fathi Bashagha that he would exercise his duties from the capital after Eid Al-Adha, according to Sky News Arabia.
The vehicles were reportedly heading to various militia headquarters on the outskirts of the capital. "It turned out that these military vehicles belonged to the Deterrence and Al-Nawasi militias loyal to Prime Minister Abdel-Hamid Dbaiba," it added.
Bashagha confirmed that he "will enter Tripoli without firing a single shot." As well as claiming that there are understandings between parties inside the capital, that will support his entry without disturbances.
He said that "all roads to Tripoli are open, and we have received several positive invitations to enter the capital."
In mid-May, Bashagha tried to enter Tripoli but withdrew hours after clashes broke out.
He stated that he, "withdrew to avoid bloodshed," and that "the forces that were in opposition have changed their positions, and want us to enter the capital, and we will enter. There is no strong opposition, there is opposition from some forces that received money from the previous government."
Bashagha also stressed that the Dbaiba-led Government of National Unity (GNU) is illegitimate, and its mandate has expired.
He warned that chaos would prevail in Libya because of the recent demonstrations. As well as noting that people are demanding that there be a single government, to begin a reform process.
Bashagha denied any connection between the ongoing electricity crisis, and the closure of oil facilities. He pointed out that the residents of the Oil Crescent, after being assured that money would not be lost to corruption, would lift the ban on oil exports.
The PM-designate called on the United Nations to "adopt solutions that work for the benefit of the Libyan people, instead of the countries that interfere in the affairs of Libya." He added, "we were able to avoid any military confrontation, but Libya cannot remain in this state forever. We need a solution."