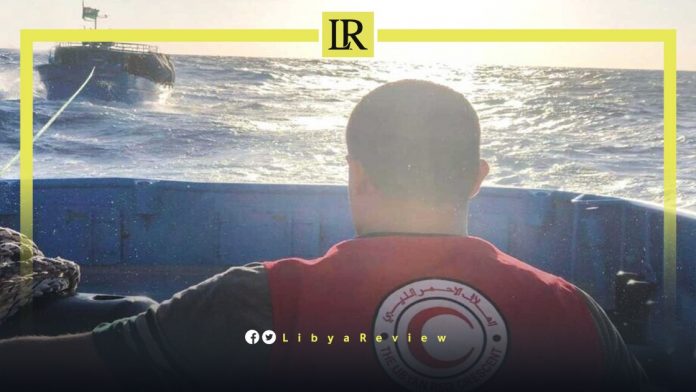 The Libyan Red Crescent announced that it had successfully completed a 14-hour rescue operation, off the coast of Derna
It said that it had received a report from security services, about the presence of a migrant boat in distress. The emergency team set out on Thursday at 7:00 pm, in cooperation with the Libyan Ports Company. This in turn conducted a search trip aboard the 'Irasa Derna.'
The statement pointed out that the search and rescue operation took approximately 14 hours. The migrants were found in the early hours of Friday morning.
The emergency team transferred the rescued migrants to the port of Derna, to undergo medical tests. Seven of the cases were transferred to Al-Wahda Hospital in critical condition.
On Monday, the International Organization for Migration (IOM) said that a total of 9,000 migrants, including 656 women and 342 minors were returned to Libya, after being rescued off the country's coast in 2022.
"In the period of January -June, a total of 9,000 migrants have been disembarked back on Libyan shores," IOM said in a statement late Monday. The UN agency also added that 156 migrants drowned, and 565 others went missing this year.
In 2021, a total of 32,425 migrants were returned to Libya, 662 died, and 891 others went missing, the IOM revealed.
Libya has been suffering insecurity and chaos since the fall of the late leader Muammar Gaddafi in 2011. This has made the country the preferred point of departure for migrants who want to cross the Mediterranean to European shores.