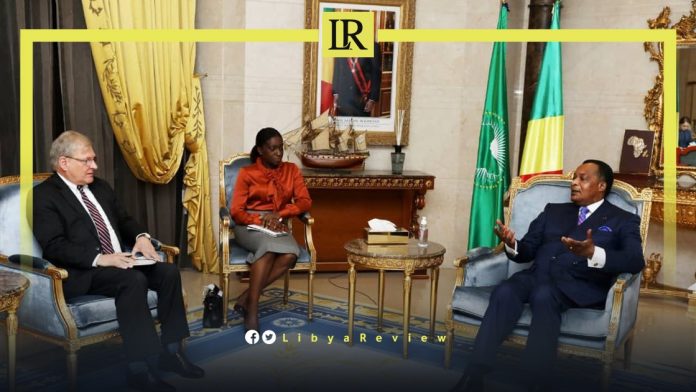 The US Ambassador to Libya, Richard Norland stated that Washington supports the efforts of the African Union, currently chaired by Congo Brazzaville, to resolve the Libyan crisis.
Norland met with President Sassou N'Guesso, Chairman of the African Union High-Level Committee on Libya on Friday.
The US Embassy said in a statement that Washington is "supportive of efforts by Libya and its international partners to build a unified and inclusive government, that can both secure the country, and meet the economic and humanitarian needs of the Libyan people."
"The United States recognizes President Sassou's leadership and continued efforts in search of a peaceful resolution to the crisis in Libya, and his work to resolve conflicts within the Great Lakes Region and on the African continent at large," the statement added.
Norland affirmed that the US supported ongoing efforts by the AU, spearheaded by N'Guesso in cooperation with Libya's Presidential Council, to help implement a roadmap on reconciliation.
He reiterated Washington's support for "reconciliation that will bring Libyan stakeholders from across the country, as well as international partners together in support of durable peace, the unification of institutions, peaceful elections, a stable democratic transition, and economic prosperity for the Libyan people.
"A peaceful Libya is a common interest for the United States and the Republic of the Congo, and for the entire African continent," he concluded.
The meeting was attended by Congolese Minister of Foreign Affairs, Jean-Claude Gakosso.
Last month, Speaker of the Libyan Parliament, Ageela Saleh received an African Union delegation headed by Gakosso.
Saleh praised the positive role of the African Union in "supporting the stability of Libya, and establishing the rules of democracy and a peaceful path."
"The Libyan Parliament praises the African Union's relentless efforts to start a comprehensive national reconciliation among the Libyan people, unite the parties, and prepare for elections," he added.
Gakosso stressed that the Libyan crisis is receiving great attention, and at the highest levels of the Presidency of the AU. He explained that they have been working for years to resolve the conflict, and noted that "national reconciliation is the only solution to get out of all the crises that Libya is going through.