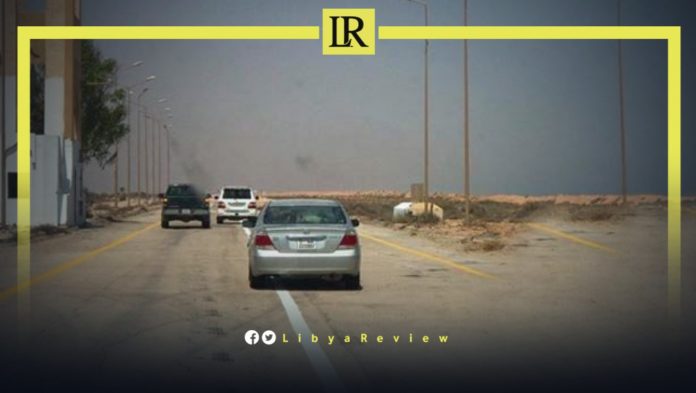 Libya's main coastal road which links the country's eastern and western region is reopened after a six day-closure due to the deadly clashes between the warring factions and in a protest of the political and economic situation.
A member at the 5+5 Joint Military Commission (JMC), Brigadier General Abdel Salam Abu Zreik, said the road is reopened and the remnants of clashes were removed. He expected that the movement will be returned to its flow from both sides soon.
On Tuesday, gunmen from the city of Misrata closed the coastal road at 60 km West of Sirte. The cargo trucks and ambulances transporting patients between east and west were unable to pass.
On Tuesday, unidentified gunmen blocked the coastal road linking Misrata and Sirte cities at Gate 50 for the second time in two weeks.
The closure of the road has resulted in the halt of the movement of passengers, cargo trucks, and ambulances transporting patients between eastern and western Libya.
According to Libyan travelers, a number of armed outlaws, some belonging to an armed group from Misrata and another affiliated with the so-called Shura Council, blocked the coastal road this morning and forced the return of travelers from the East and West.
The road connecting western and eastern Libya was reopened in June last year following two years of closure due to wars between the eastern-based army and the United Nations (UN)-backed Government of National Accord (GNA)based in the capital Tripoli.
The United Nations Support Mission in Libya (UNSMIL) expressed concern about the reports of coastal road closure by armed groups.
"UNSMIL is following with deep concern reports of sporadic closures of the coastal road west of Sirte at Gate 50," UNSMIL said in a statement.
UNSMIL stressed the imperative of all parties to keep the vital road open from both directions to ensure the free movement of people and goods between cities.
"UNSMIL commends the JMC 5+5 for their tireless efforts to safeguard the October 2020 ceasefire agreement and calls on all parties to refrain from any provocative acts that could worsen the security situation," the statement said.
Libya has two rival armies present in the East and the West. They were engaged in fierce conflict, before signing an UN-brokered ceasefire agreement in October 2020.