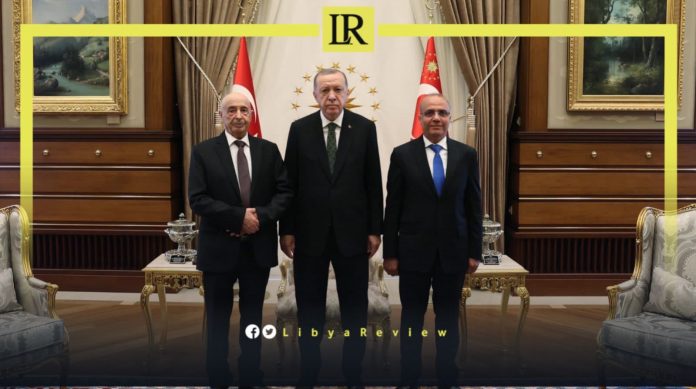 On Tuesday, Turkish President, Recep Tayyip Erdogan held talks with the Speaker of the Libyan Parliament, Ageela Saleh, and Deputy Head of the Presidential Council, Abdullah Al-Lafi, at the Presidential Complex in Ankara.
During the meeting, Al-Lafi said that the talks, which also included the Speaker of the Turkish Parliament, Mustafa Şentop, dealt with the latest political developments in Libya.
They agreed on the need to "preserve the unity of Libyan territory and expedite the electoral process through the agreed-upon legislation with one strong government, he explained.
Al-Lafi also added that the meeting stressed the need to "exclude a military solution, and to cease all escalations that hinder the building of a civil and democratic state."
Notably, Turkey signed a memorandum of understanding on security and military cooperation with Libya's former Government of National Accord (GNA), in November 2019.
Last month, the Turkish Parliament approved a motion to extend the mission of the Turkish troops in Libya for additional 18 months.
The memorandum signed by the Turkish President indicated that "the efforts initiated by Libya after the events of February 2011, to build democratic institutions, were in vain due to armed conflicts that led to the emergence of a fragmented administrative structure in the country."
It recalled the signing of the Skhirat Agreement in 2015 in Morocco, under the auspices of the United Nations, after nearly a year of negotiations between all parties. This was to establish a ceasefire and preserve the country's territorial integrity.
There is currently no agreement on how to move the political process forward, and on who should rule the country in the lead-up to elections. Incumbent Prime Minister Abdel-Hamid Dbaiba's government remains in the capital, Tripoli while the Parliament-designated Prime Minister, Fathi Bashagha has set up his cabinet in the coastal town of Sirte.
Libyans fear the crisis will derail efforts to get the elections back on track, and could return the country to territorial partition and civil war.