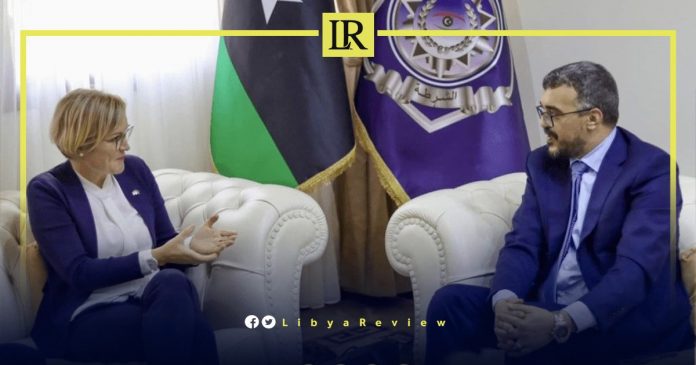 On Thursday, Libyan Interior Minister, Badr El-Din Toumi met with the British Ambassador to Libya, Caroline Hurndall in Tripoli. They discussed cooperation in combating terrorism, organized crime, and illegal immigration.
The two sides also discussed specialized training programs, and issuing entry visas for Libyans to the UK.
Hurndall expressed her readiness to cooperate with the Ministry of Interior, to raise the level of security in Libya.
Notably, the British government Spokeswoman for the Middle East and North Africa, Rosie Diaz called on Libyan leaders to agree on a path for elections, and implement the will of the Libyan people.
In press statements, Diaz confirmed that the UK supports resolving the outstanding issues related to the matter, and that the decision to renew the mandate of the UN mission (UNSMIL) confirms these messages, she said.
Last month, Ambassador Hurndall called on Libyan leaders to continue to preserve the ceasefire agreement.
The British Ambassador said that the UK supports the holding of fair and transparent elections as soon as possible. She also praised the efforts of UNSMIL, to hold the elections.
In her speech on the occasion of the reopening of the British Embassy in Tripoli, after an 8-year closure, Hurndall praised the depth of bilateral military relations. She stated that the two countries stood side by side to fight IS together, in the city of Sirte.
"The reopening of the British Embassy underlines the UK's continuing commitment to develop closer cooperation with Libya, and to work with Libyans and the UN towards a durable political settlement," the Embassy said in a statement.
"Although the British Embassy is based in Tripoli, this is a demonstration of our commitment to the whole of Libya. I am proud that our work touches the lives of Libyans across the whole country," Hurndall said.
"If Libya is to fulfil her political and economic potential, Libya's leaders must continue to implement the October Ceasefire Agreement, and work together to pursue compromise and cooperation," she added.
The statement pointed out that the UK Embassy is supporting the High National Election Commission (HNEC), to help prepare Libya for successful elections. It is also working with the Peaceful Change Initiative to facilitate local-level peacebuilding processes across the whole country, including in Ajdibaya, Tobruk, and Zliten.
"The UK is working on training and mentoring delivered by UK policing and law enforcement experts to Libyan officers from Benghazi, Sebha, Misrata, and Tripoli, enabling Libyan law enforcement to dismantle terrorist networks," the statement noted.