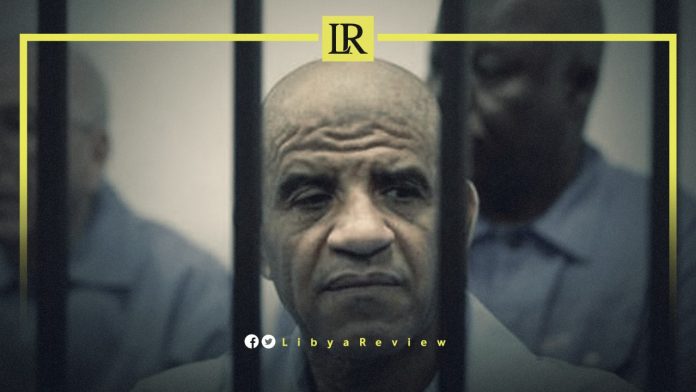 The Al-Magarha tribe in Libya held the United Nations fully responsible for the life of Abdullah Al-Senussi, the former Head of the Intelligence Services in the Gaddafi government. The tribe said that it "will not remain silent if something happens to Al-Senussi, in light of his cancer and deprivation of doctors and medicine."
Al-Senussi (72), a member of the Al-Magarha tribe was one of the most powerful men in the former regime. He was sentenced to death in 2015, for his role in suppressing the February 17 revolution in 2011. At the end of 2019, the Tripoli Court of Appeals acquitted him, alongside other former regime members.
A similar ruling was issued in the Abu Salim prison case, but the country's Supreme Court overturned the ruling about a year ago and requested a retrial.
In an interview with Asharq Al-Awsat, Sheikh Harun Arhouma, a notable of the Al-Magarha tribe said that Al-Senussi, who is imprisoned in Tripoli's Mitiga prison, "is in very poor health, and suffers from heart disease and cancer."
He held several parties in Libya responsible for the imprisonment of Al-Senussi, as many leaders of the former regime were released.
"Since last Ramadan, we have not met him, and they have not allowed his fifteen-year-old son, or his two daughters, Al-Anoud and Sarah, to visit him. We do not know for sure whether Al-Senussi is alive or dead. His jailers prevent him from doctors, and deprive him of medication and visits completely," Sheikh Harun noted.
Sheikh Harun, who is the Head of the Supreme Council in the Fezzan region, said: "I hold the United Nations, the Government of National Unity (GNU) headed by Abdel-Hamid Dbaiba, and the Presidential Council responsible for any harm that befalls our son."
He discussed previous efforts he made to seek the release of Al-Senussi, and said: "We met with Dbaiba twice, as well as the President of the Presidential Council Mohamed Al-Mnifi, the Head of the High Council of State (HCS) Khaled Al-Mishri, and the Attorney General, Al-Siddiq Al-Sour, and they did nothing."