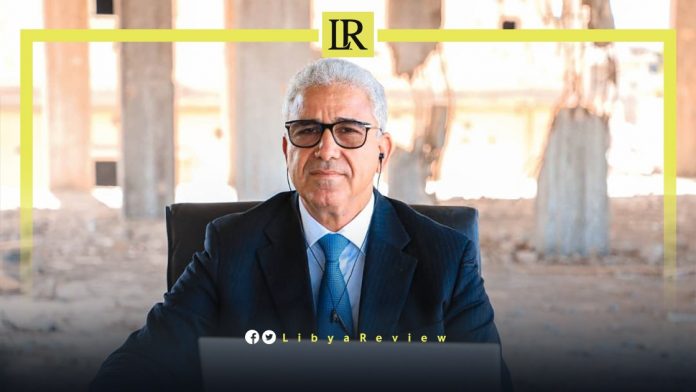 The Libyan Parliament-designated Prime Minister, Fathi Bashagha called on the Central Bank of Libya (CBL) to amend the exchange rate of the Libyan dinar, during the meeting of the Monetary Policy Committee of the Bank.
The PM asked the CBL to "enhance the value of the Libyan dinar against foreign currencies, which would contribute to raising the purchasing power of the Libyan citizen."
Bashagha cited Law No. 1 of 2015 regarding "taking appropriate measures to address economic or financial turmoil, given the stifling economic crisis that the national economy is going through."
He called on the CBL to "follow a rational monetary policy and take decisions that limit the exacerbation of inflation levels, and reduce pressures on the exchange rate and value of the Libyan dinar."
He pointed to the repercussions of the global economic crisis, and the sharp rise in the prices of basic commodities. Libya is almost completely dependent on foreign imports, which has "affected the decline in the purchasing power of the local currency, and its consequences were reflected in the lives of citizens," he said.
The PM called for "developing a plan to curb the stagflation and enhance the value of the Libyan dinar against foreign currencies. This would contribute to controlling commodity price levels in the Libyan market."
He pledged that his government would "take all measures and arrangements to reduce inflation-causing spending, in accordance with the CBL's monetary policy."
In June, the Speaker of the Libyan Parliament, Ageela Saleh assigned the Deputy Governor of the CBL, Ali Al-Hibri as acting Governor. He is "to carry out the tasks and work of the CBL Governor, until a new one is chosen by the legislative authority."
The decision is in accordance with Parliament Resolution No. 17 of 2014, which dismissed Al-Siddiq Al-Kabir as Governor of the Central Bank.
Saleh added that Al-Hibri is to remain until the CBL is unified, and approved by Parliament. He explained that the Central Bank reports to the legislative authority, in accordance with Article 2 of Law No. 1 of 2005 and its amendments. He stressed the importance of only dealing with Al-Hibri as the CBL Governor.