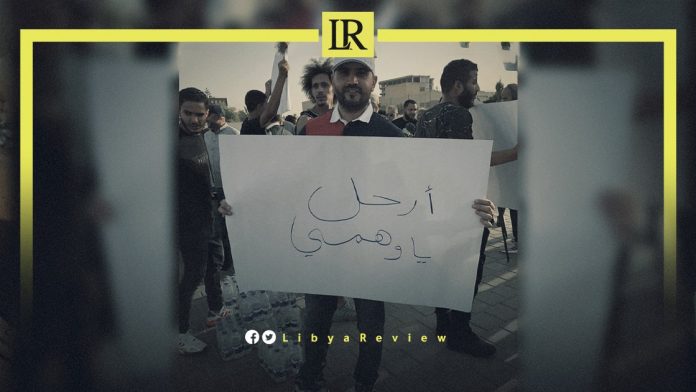 On Tuesday, dozens of protesters took to the streets in the Souq Al-Juma neighbourhood, eastern Tripoli. They demanded that the incumbent Prime Minister of the Government of National Unity (GNU), Abdel-Hamid Dbaiba step down.
The protesters left banners with anti-Dbaiba slogans that read "Go out Delusive" in reference to the false promises made by Dbaiba since he assumed office.
A number of the city's political activists, elites, and dignitaries took part in the protests. They expressed their "deep and great concern about the deteriorating situation in Libya, under the rule of the GNU."
The protesters said that the GNU had "clearly failed to realize the long-awaited demands of the Libyan people in holding Presidential and Parliamentary elections."
They added that the government had "not been able to preserve the prestige and sovereignty of the country, and address the flagrant security violations of the state ports, airspace, and territorial waters by allowing unprecedented external interference."
In a related context, a member of the Libyan Parliament, Abdel-Moneim Al-Arfi alleged that Dbaiba "is the one who spoiled the elections, and bears full responsibility for not holding them."
He added that "Dbaiba is lying and deceiving, and he is the one who rejected the election law, which stipulates that office holders stop working three months in advance."
"His accusations of Libyan MP's obstructing the elections are not true, and he is the main reason," Al-Arfi noted. He added that "more than 40% of MP's ran for the elections, and if they wanted to spoil them, they would not run."
On 10 February, the Libyan Parliament announced the unanimous appointment of Fathi Bashagha as the new Prime Minister. But Dbaiba warned that the appointment of a new interim government could lead to war and chaos in the country. He renewed his pledge to only hand power over to an elected government.
Presidential and Parliamentary elections, originally set for December last year, were meant to cap a UN-led peace process following the end of the last major round of violence in 2020.
But the vote never took place due to several contentious candidacies, and deep disagreements, over the polls' legal basis.