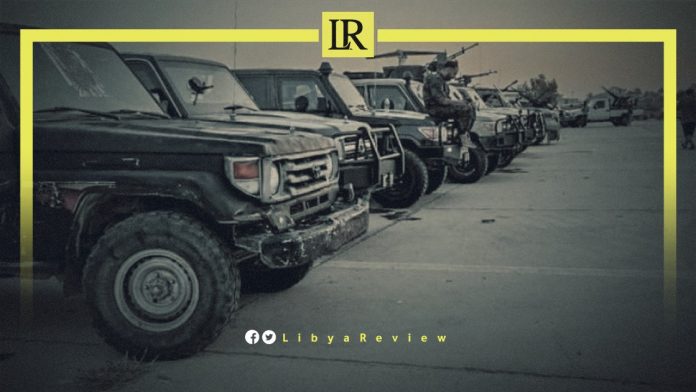 On Wednesday, Libyan security forces and militias affiliated with the Interim Government of National Unity (GNU) headed by Abdel-Hamid Dbaiba began to redeploy fighters and military vehicles in Tripoli.
The redeployment of these forces seems to be a pre-emptive plan to thwart any moves by forces loyal to the rival Government of National Stability, headed by Fathi Bashagha, to enter the city.
The Anti-Terrorism Force announced that it had deployed a number of its detachments at Tripoli International Airport. This is in accordance with a security plan to secure vital facilities located in the south of Tripoli
It also claimed that this was to "impose security in the area, preserve the safety and security of citizens, and prevent the outbreak of armed conflicts in areas adjacent to the Libyan capital."
This coincided with Turkish Minister of Defense, Hulusi Akar's statements that Ankara seeks to prevent the bloodshed in Libya.
Clashes between armed groups erupted last week in Tripoli, where gunfire and explosions were heard in the El Jebs district in the city's south.
Tensions have been rising for months as two prime ministers vie for power; raising fears of renewed conflict two years after a landmark truce.
Bashagha has failed in his attempts to oust Dbaiba, who has repeatedly asserted he will only hand over power to an elected government.
On 22 July, fighting in the heart of the city left 16 dead, and about 50 wounded.
Dbaiba's GNU was appointed as part of a United Nations-backed peace process in 2021, to end more than a decade of violence in the North African country.
The transitional government had a mandate to lead the country to elections in December. These failed to take place due to divisions over the electoral laws, and several controversial candidates.