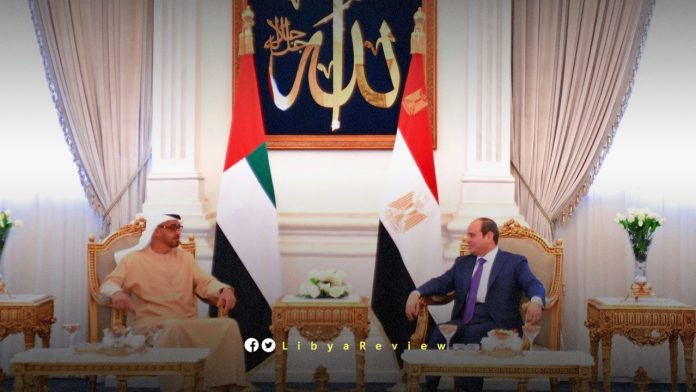 Sunday's meeting between United Arab Emirates President, Sheikh Mohamed Bin Zayed, and his Egyptian counterpart, Abdel Fattah El-Sisi, in New Alamein city highlighted the Libyan crisis.
The visit comes within the context of tireless and continuous efforts made by the two countries to settle the crises facing the Arab region, notably with regard to the Libyan crisis.
Bin Zayed's visit to Egypt also highlights the UAE's and Egypt's keenness to stabilise the situation in the region and all Arab countries.
During the meeting, El-Sisi and Bin Zayed exchanged views on a number of issues of common concern and the latest developments in the regional and international arenas.
The two leaders stressed the need to give priority to dialogue, understanding, and diplomatic ways in order to settle disputes and crises peacefully in a way that ensures international peace and security are maintained.
The talks also touched on the significance of enhancing joint Arab action and unity in facing the challenges witnessed by the Arab region. They also affirmed their support for all efforts to reach a permanent solution to crises in the region's countries that contribute to boosting the foundations of security and stability in them and achieving prosperity and peace for their peoples.
In light of the rapid succession of events in Libya, and at a time when the two countries play an important role in resolving the Libyan crisis, this meeting is important to discuss the latest developments in the North African country.
Both countries endeavor to achieve political, security, and economic stability in Libya, which, if achieved, will inevitably lead to the holding of long-awaited presidential and parliamentary elections and an end to the state of tension in the country.
Over the past years, Egypt and the UAE have played an important and pivotal role in providing solutions to the Libyan crisis, and de-escalating the situation in the country.
Over the course of 11 years, the UAE has hosted many talks and conferences to achieve peace in Libya, and it also has been the Gulf country's most striving to end the Libyan crisis, by providing many solutions, and hosting the Libyan warring parties. It did this in an attempt to de-escalate the situation in the North African country, and fight terrorism.
The UAE played a very important role in supporting the Libyan National Army (LNA), which thanks to this support and the unity of Libyans was able to defeat terrorism in the East and South of the country and recapture the cities seized by terrorist groups.
As for Egypt's efforts to put an end to the Libyan crisis, it became clear, even to the people of Libya themselves, that Egypt has been keen to maintain security in the neighbouring country and prevent bloodshed among its people. It aims to do this by hosting Libyan delegations, as well as holding meetings and conferences, with a view to providing practical solutions to achieve peace in the country.