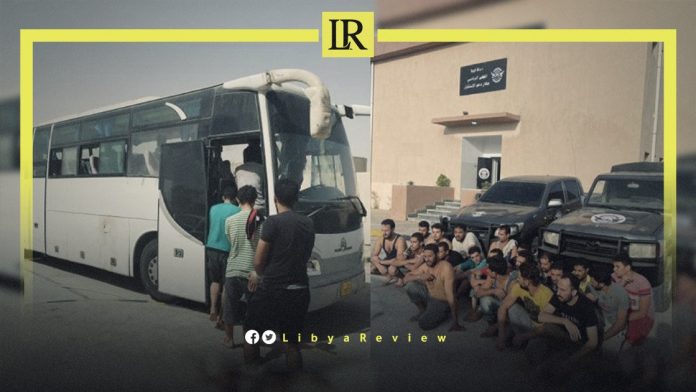 On Monday, Libya's Stability Support Apparatus (SSA) announced that at least 20 illegal Egyptian migrants were arrested at the Zuwara-Ras Ajdir border crossing.
In a statement, it added that the migrants were arrested and transferred to a detention center in the Maya region, west of Tripoli.
The SSA vowed to "crackdown on anyone involved in human trafficking and the smuggling of illegal immigrants, as it harms the country's national security and the safety of citizens."
Despite the Egyptian authorities warning against illegal immigration to Libya, many continue to attempt to migrate to Europe through Libya. This is despite the threats of kidnapping, drowning, torture, rape, and extortion.
Libya plunged into turmoil following the NATO-backed 2011 uprising that toppled and killed longtime leader Muammar Gaddafi.
Earlier this month, the London-based watchdog Amnesty International issued a report documenting abuses against migrants by the SSA.
Notably, Libya ranked 20th among the insecure countries, according to the Numbeo Crime Index. The war-torn country was rated 62.00 in the crime index, a high rating.
The Libyan Capital ranked 50th in the world, in the Crime Index classification for cities, and the second in the Arab world, with Damascus coming first. Tripoli received 64.27 degrees on the crime index, a high crime level.
The Crime Prevalence Index aims to assess the general level of crime in 135 countries around the world. The index is based on several criteria; such as murder, robbery, and rape.
The United Nations Support Mission in Libya (UNSMIL) has documented numerous cases of illegal arrests and detention, enforced disappearances, torture, and extrajudicial killings of civilians, officials, journalists, civil society members, and human rights activists in Tripoli during the past year.