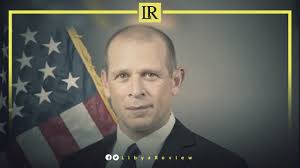 The Regional Spokesman for the US State Department, Samuel Warburg stated that Washington communicates on a daily basis with Libya's rival parties, and supports civil society organisations.
In a press statement to Monte Carlo, Warberg added that the United States is working to push for free and fair elections in Libya. He explained that "the absence of US statements about Libya does not mean that we no longer attach importance to this file."
Notably, the United States said it was deeply concerned by renewed threats of violent confrontation in Tripoli, and called for immediate de-escalation by all sides. "The vast majority of Libyans seek to choose their leadership peacefully, through elections."
In a statement, the US Department of State said: "We call on those who risk once again being dragged into violence to put down their arms and in particular urge Libya's leaders to recommit themselves without delay, to identifying a constitutional basis for Presidential and Parliamentary elections."
It added that the ongoing instability is a reminder of the urgent need for the appointment of a new UN Envoy to Libya to resume mediation efforts, with unified support from the international community.
"The United States will amplify calls for calm and recommitment to elections during the August 30 UN Security Council briefing and consultations on Libya," the statement said.
Last week, militias affiliated with the outgoing Government of National Unity (GNU) began to redeploy forces and military vehicles across Tripoli.
The United Nations Support Mission in Libya (UNSMIL) said it was "following with deep concern the ongoing mobilization of forces and threats to resort to force to resolve legitimacy claims in Libya."
It called for immediate de-escalation, and reiterated that the use of force by any party is unacceptable. As this would not lead to an outcome that secures recognition by the international community.
"The current political stalemate and all aspects of the crisis that afflicts Libya cannot be resolved through armed confrontation. These issues can only be resolved by the Libyan people exercising their right to choose their leaders and the renewal of legitimacy of State institutions through democratic elections," UNSMIL said on Tuesday.
The mission affirmed that it will continue to work with relevant Libyan institutions and all actors to put the electoral process back on track as soon as possible.