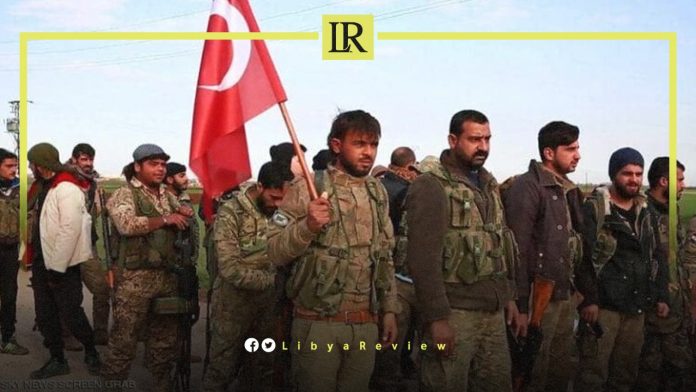 On Saturday, the Syrian Observatory for Human Rights (SOHR) claimed that Turkish commanders ordered Syrian mercenaries stationed in Libya not to engage in the clashes taking place in Tripoli.
According to reliable sources, the SOHR added that the mercenaries have not yet engaged in the fighting, in compliance with the orders of their commanders, and the Turkish authorities.
At least one person was killed and five others wounded during the clashes, a health official said.
Footage circulated online showed houses and vehicles damaged from the fighting.
The Tripoli Revolutionaries Brigade (TRB) affiliated with the commander Haitham Al-Tajouri clashed with the Stabilization Support Apparatus (SSA) affiliated with Abdel-Ghani Al-Kikli (Gheniwa).
According to witnesses, the TRB managed to defeat SSA forces, take control of the internal security headquarters on Al-Jumhuriya Street, seize dozens of cars, and detain three people.
Fighting broke out in various districts of Tripoli between groups armed with both heavy and light weapons. Libya's two rival governments yet again vie for power in the oil-rich, but impoverished North African country.
Gunshots and explosions rang through the darkened streets of Tripoli, according to media reports.
The SOHR confirmed that Turkey has failed to pay the salaries of the Syrian mercenaries being stationed in Libya's Yarmouk camp for five consecutive months.
In a statement, the SOHR said that this comes amid calls by those mercenaries to stage protests over their overdue salaries.
According to reliable sources, SOHR claims that "fear has spread among members of the Syrian National Army, who are stationed inside the Yarmouk camp, located in areas controlled by the Libyan Government of National Unity (GNU). This is against the backdrop of the military operations launched by Turkey in its 'Euphrates Shield' areas of northern Syria, which has been held by pro-Turkish Syrian opposition fighters since 2016."
The Observatory recently reported that the Yarmouk camp is witnessing escalating disputes between the mercenaries. This is due to the fact that they are unable to visit Syria, and that the mercenary exchanges have stopped.
Many of the mercenaries have been stationed in Libya for two years, without having returned under leave or exchanged to Syrian territory.
The SOHR sources confirmed that militia leaders "continued to steal parts of their salaries." In addition, the fighters are not being provided with food allowances.
Two mercenaries reportedly fled to neighbouring Algeria, in a bid to travel onwards to Europe. Turkish intelligence reportedly arrested the brother of one of the men, to pressure him to return to Libya.
Last month, Turkish forces in Libya informed the Syrian mercenaries of the cessation of back-and-forth transfer operations until the end of 2022. They added that aircrafts will only be sent when necessary.
On 9 May, SOHR noted that preparations were underway in the northern Aleppo countryside, to send a new group of mercenaries to Libya. The group comprised of nearly 75 fighters.