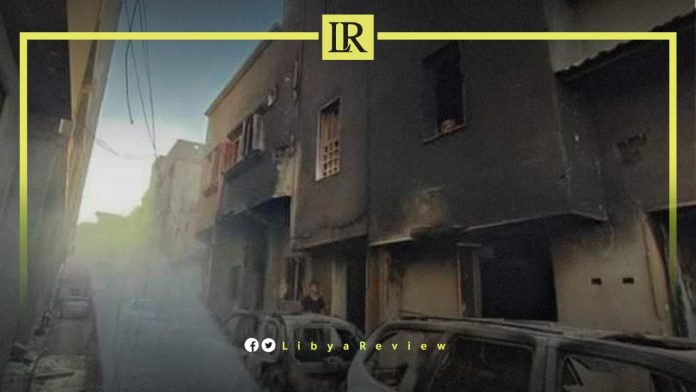 The United Kingdom called for an "immediate end to violence" in Tripoli. It condemned "any attempts to seize or maintain power by force."
In a statement published by the British Embassy in Libya on its Twitter account today, it stressed the need to protect civilians as "paramount."
The Libyan Health Ministry reported that at least 12 were killed, and 87 were wounded during clashes between rival militias that broke out early Saturday.
Mustafa Baraka, a comedian known for his social media videos, was killed after being shot in the chest.
The Tripoli Revolutionaries Brigade (TRB) affiliated with the commander Haitham Al-Tajouri clashed with the Stabilization Support Apparatus (SSA) affiliated with Abdel-Ghani Al-Kikli (Gheniwa).
According to witnesses, the TRB managed to defeat SSA forces, take control of the internal security headquarters on Al-Jumhuriya Street, seize dozens of cars, and detain three people.
Fighting broke out in various districts of Tripoli between groups armed with both heavy and light weapons. Libya's two rival governments yet again vie for power in the oil-rich, but impoverished North African country.
Gunshots and explosions rang through the darkened streets of Tripoli, according to media reports.
Local media reported Saturday that the Coastal Road linking the cities of Al-Khoms and Zliten was closed. This was in anticipation of the movement of forces from Misrata towards Tripoli.
"This is horrible. My family and I could not sleep because of the clashes. The sound was too loud and too frightening," said Abdulmenam Salem, a central Tripoli resident. "We stayed awake in case we had to leave quickly. It's a terrible feeling."
The crisis pits groups that back the Tripoli-based Government of National Unity (GNU), led by incumbent Abdel-Hamid Dbaiba, against supporters of a rival government led by Prime Minister-designate, Fathi Bashagha.
Bashagha was appointed in February by the Libyan Parliament, but has since been unable to enter Tripoli.