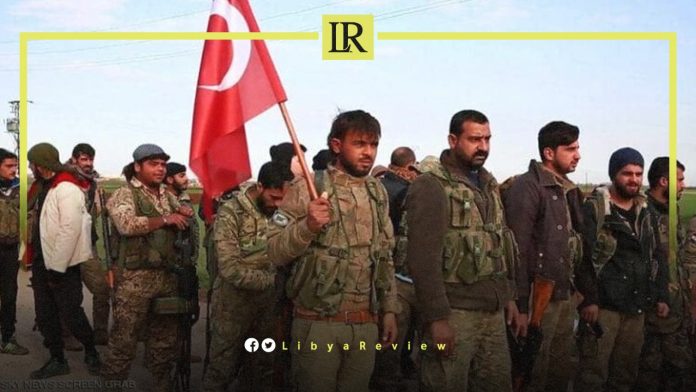 On Sunday, the Syrian Observatory for Human Rights (SOHR) reported that the Turkish government has failed to pay the salaries of its-affiliated Syrian mercenaries in Libya, for nearly six months.
Reliable sources told SOHR that "Turkey also tightens the screws on those mercenaries stationed in Libya's military camps, by preventing them from going outside their military barracks."
The sources added that "anyone who tries to go out, or escape, will be subjected to various methods of brutal torture by their military commanders."
It noted that this comes amid calls by the mercenaries to protest their overdue salaries.
According to reliable sources, SOHR claims that "fear has spread among members of the Syrian National Army, who are stationed inside the Yarmouk camp, located in areas controlled by the Libyan Government of National Unity (GNU). This is against the backdrop of the military operations launched by Turkey in its 'Euphrates Shield' areas of northern Syria, which has been held by pro-Turkish Syrian opposition fighters since 2016."
The Observatory recently reported that the Yarmouk camp is witnessing escalating disputes between the mercenaries. This is due to the fact that they are unable to visit Syria, and that the mercenary exchanges have stopped.
Many of the mercenaries have been stationed in Libya for two years, without having returned under leave or exchanged to Syrian territory.
The SOHR sources confirmed that militia leaders "continued to steal parts of their salaries." In addition, the fighters are not being provided with food allowances.
Two mercenaries reportedly fled to neighboring Algeria, in a bid to travel onwards to Europe. Turkish intelligence reportedly arrested the brother of one of the men, to pressure him to return to Libya.
Last month, Turkish forces in Libya informed the Syrian mercenaries of the cessation of back-and-forth transfer operations until the end of 2022. They added that aircraft will only be sent when necessary.
On 9 May, SOHR noted that preparations were underway in the northern Aleppo countryside, to send a new group of mercenaries to Libya. The group comprised nearly 75 fighters.