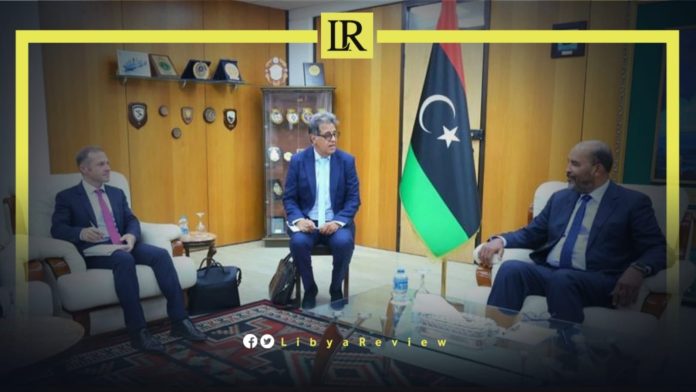 On Thursday, France's Special Envoy to Libya, Paul Soler affirmed his firm support for "Libyan efforts, aimed at ending the current political crisis, without external interference. In order to preserve the full sovereignty of Libyans over their country."
These remarks came during the France envoy's meeting with the Deputy Head of Libya's Presidential Council (PC), Moussa Al-Koni in Tripoli.
During the meeting, Soler conveyed the greetings of French President, Emmanuel Macron to the PC, and affirmed Paris' continued support for the Council in its efforts to achieve stability in Libya and secure its safety.
In addition, he hailed the qualitative progress achieved by the 5+5 Joint Military Commission (JMC), in maintaining the October 2020 ceasefire agreement.
The Special Envoy also praised the efforts of the PC for beginning its National Reconciliation Project, amid the deep political crisis in the country.
The meeting was attended by the French Ambassador in Tripoli, Béatrice le Fraper du Hellen. It also touched on the latest developments in the situation in Libya, and the PC's efforts to hold elections based in order to achieve the aspirations of nearly three million Libyan voters.
Al-Koni expressed his hope that France will have a prominent role during this critical stage, especially given its capacity as the Chair of the European Union. He added that France's assumption of the UN Security Council rotational Presidency next month will help contribute to resolving the Libyan crisis.
Libya has suffered a political and military crisis after the fall of longtime leader Muammar Gaddafi in a 2011 NATO-backed uprising.
Presidential and legislative elections were originally scheduled for December 2021 to cap a UN-sponsored peace process, following the latest civil war.