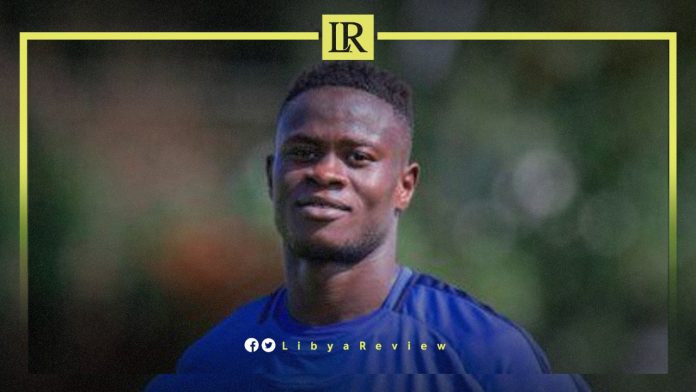 Forward of the Sierra Leone football national team, Moussa Tombo who joined Libya's Al-Ittihad last week, appealed to be released after hearing gunshots near his residence, in Tripoli.
Tombo, who is keen to return back, has confirmed on video that his return trip ticket has been cancelled by his wife.
The striker is confused regarding his chances of leaving Libya. According to the club, his contract has been signed and sealed already, and he is now an Al-lttihad SC team player for the next two years.
Tombo published a video, in which he brandished a knife, saying, "From now on, anything that will happen to me will be because of my wife and my agent, even if she is exposed to death. Especially as she said to me, 'OK, when you die, the family will feel pain for losing you, and then I will marry again'."
As Tombo was preparing to travel to Cameroon to participate for the first time in the African Nations Cup, his wife went to bid him farewell and kissed his foot. The photo was spread widely across media platforms.
Armed clashes between militias are frequent in western Libya. In August, fighting broke out in various districts of Tripoli between groups armed with both heavy and light weapons, as two rival governments yet again vie for power in the oil-rich but impoverished North African country.
Gunshots and explosions rang through the darkened streets of Tripoli. Libya's Health Ministry said the death toll has risen to 32 deaths and 159 injuries.