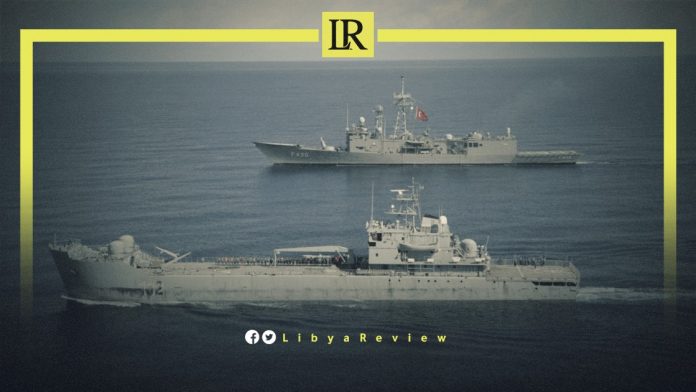 On Thursday, Libyan and Turkish naval forces carried out joint military exercises in the Mediterranean.
Libya's class landing ship, IBN Ouf-132 and Turkey's, TCG Gaziantep frigate took part in the exercises.
According to the report, various types of training were successfully carried out as part of the drill.
Ankara signed a memorandum of understanding on security and military cooperation in November 2019 with Libya's former Government of National Accord (GNA), headed by Fayez Al-Sarraj.
In June, the Turkish Parliament approved a motion to extend the mission of the Turkish troops in Libya, for additional 18 months.
The memorandum signed by Turkish President, Recep Tayyip Erdogan indicated that "the efforts initiated by Libya after the events of February 2011, to build democratic institutions, were in vain due to armed conflicts that led to the emergence of a fragmented administrative structure in the country."
In May, Turkish Defence Minister, Hulusi Akar, stated that the Turkish soldiers and Syrian mercenaries in Libya would remain present to preserve Ankara's interests.
The UN estimates there are over 20,000 foreign fighters and mercenaries in Libya, helping both sides of the conflict.
In April 2019, the Libyan National Army (LNA) led by Khalifa Haftar launched an offensive on Tripoli. The GNA requested help from Turkey to avert an LNA takeover. Ankara soon began to airlift thousands of Syrian mercenaries, and an array of weapons to support the GNA.
The ceasefire agreement also demands the withdrawal of all mercenaries and foreign fighters from the country. A number of Libyan politicians have called for the closure of airspace to Turkish aviation.
Turkey's presence in Libya is linked to its broader interests in the eastern Mediterranean, where it is searching for natural gas in disputed waters claimed by Cyprus and Greece.
Ankara struck an agreement with the GNA's leadership in November 2019, that extended Turkey's maritime claims in the Mediterranean in exchange for military support.