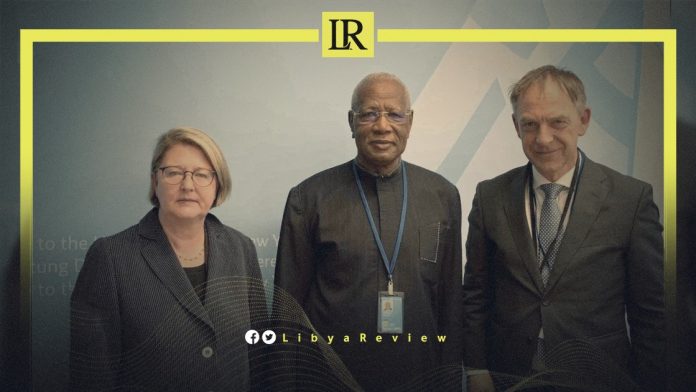 The German Director-General for Political Affairs and Special Envoy for Libya, Christian Buck reiterated Berlin's support for the new UN representative, Abdoulaye Bathily.
In a tweet, Buck said: "A particular privilege to meet and congratulate Dr Abdoulaye Bathily, the new UN Special Representative of the Secretary-General for Libya and Head of the UN Support Mission in Libya (UNSMIL). Together with Ambassador Antje Leendertse, Head of the German Mission to UN (New York) today in New York. Buck confirmed that Berlin stands ready to support Bathily and his mission.
Days ago, German MP, Awet Tesfaiesus blamed the European Union for the violations conducted against migrants in Libya.
"I feel that people are not looking into these cases. Three children were arrested coming from Libya. Anyone who knows about these topics knows what happens in Libya," Tesfaiesus told NewsBook website.
108 people were rescued by El Hiblu 1 in March 2019, acting on instructions by an aircraft of the European military operation, EUNAVFOR MED. The ship's crew sought to return the rescued migrants to Libya, however, the people on board protested their return. The crew eventually steered north to Malta.
Three teenagers were arrested upon their arrival to Malta, and detained for seven months. The trio is facing charges of terrorism, and if found guilty they face between 7-30 years behind bars. The youths were 15, 16 and 19 years old when they reached Malta.
Tesfaiesus observed that in Germany such stories are no longer being reported. "It is important for me as a politician to come here," she said, and added that "they should not be left alone."
She noted that "what happens in Libya is our responsibility as Europeans. As Europeans, we are financing this system." As well as highlighting that the torture and rape of asylum seekers have been widely documented in Libya.
Before being elected to the Bundestag, Tesfaiesus had worked as a lawyer representing asylum seekers and refugees. She recalled coming across women, who would tell her that at night they would hold hands while they sleep in order to avoid being raped in Libya.
"We are forcing people back to this place when they just want to change their lives, and we as Europe should stop financing and supporting such systems," Tesfaiesus concluded.
Recently, The UN Security Council extended a series of authorizations allowing member states to inspect vessels suspected of violating the arms embargo, on the high seas, off the coast of Libya.
The UN Council also condemned migrant smuggling and human trafficking via Libyan territory. As this serves to further undermine stabilization efforts, and endangers the lives of hundreds of thousands of people.