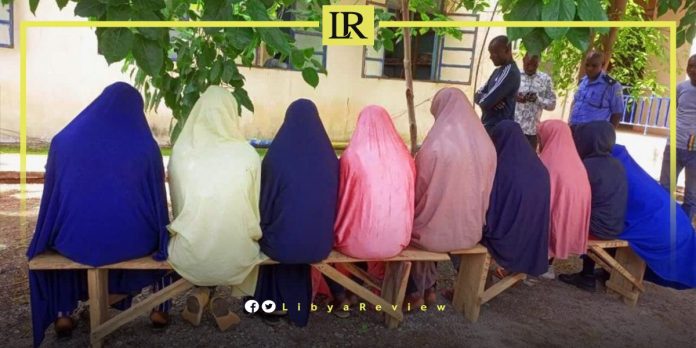 On Wednesday, Nigerian police announced the rescuing of nine women, who were being trafficked to Libya, according to The Eagle Online news.
Nigeria's State Police Public Relations Officer, Gambo Isah said that on 29 September, a criminal hideout in Daura Local Government Area was raided, and the nine women were rescued.
"In the course of the investigation, the victims stated that they were conveyed from Kano State to Daura by a driver, who on sighting the Police team abandoned the victims. They further stated that they were en route to Libya through the Niger Republic border. An investigation is ongoing, with a view to arrest the fleeing suspect," Isah concluded.
In September, the Nigerian Department of State Services (DSS) Kano Command announced the rescue of over 27 victims of human trafficking who were heading to Libya. DSS handed the victims to the Joint Border Task Force Kano Command.
This was announced by Abdullahi Babale, Kano Zonal Commander of the National Agency for Prohibition of Trafficking in Persons (NAPTIP), in an interview with the News Agency of Nigeria (NAN) in Kano. He said that the victims were taken from Oyo, Osun, Kogi, Ondo, Ekiti, Lagos, and Ogun states.
Babale pointed out that the victims and their traffickers were set to travel to Libya for employment.
"They fall between the ages of 19 years and 40 years, with 23 females and four males," Babale said. He explained that the Agency would arraign the suspects, as well as reunite the victims with their families.
Last month, the International Organization for Migration (IOM) confirmed that more than 1,600 migrants have been trafficked in Libya, between 2020 and 2022. It added that most of these migrants originated from Nigeria, Somalia, and Sudan.
The IOM pointed out that there were more men than women among the identified victims. However, "proportionately women were more at risk of exploitation, based on the overall migrant gender demographics in Libya."
In a report to provide an overview of trafficking, the IOM explained that the most common forms of exploitation identified were kidnapping for extortion, forced labour, and sex trafficking.
The Head of the National Commission for Human Rights in Libya (NCHRL), Ahmed Hamza described human trafficking as "one of the most heinous crimes and violations of human dignity." He added that cases "have escalated in Libya during these years, due to the security chaos, lack of control over the borders, and the accumulation of migrants and asylum seekers in Libya."