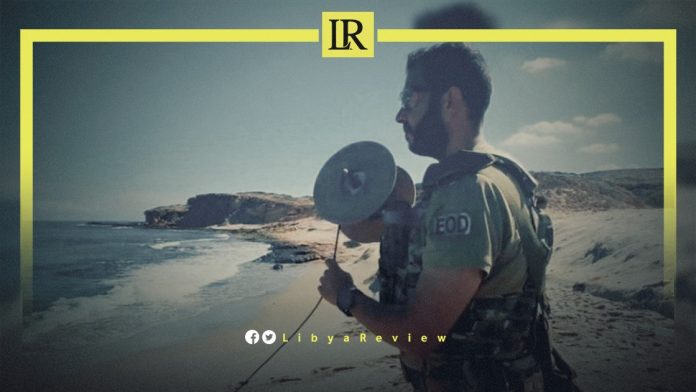 The Libyan Coast Guard has found a collection of naval mines dating back to World War II, the General Staff of the Western Libyan Forces said in a statement on Monday.
A special operations teams were able to detonate a naval mine, in the presence of the Head of the Coast Guard and Port Security, Major General Reda Issa in the Naqaza region of western Libya.
This is the second mine that was detonated by the Special Operations Group this week. Remnants of war are usually announced and disposed of by military engineering teams.
The statement pointed out that seven mines were detected, after monitoring and research operations. Two of them were detonated, and the rest are being withdrawn.
Earlier this week, the Field Medicine and Support Center in Libya announced that one person had been killed, and two others wounded as a result of a landmine explosion in the Ain Zara area, southeast of Tripoli.
The Center's Spokesman, Malek Mersit published pictures of medical personnel and ambulances rescuing the injured. "A report reached the Emergency Medicine and Support Room, Tripoli Branch, about a landmine explosion in the Al-Kahili neighbourhood in Ain Zara," he said.
In March, the Department of Military Engineering of the General Staff of the Libyan Army announced that it had removed 12 tons of mines, booby-traps, and remnants of war, detonating them in the Bir Al-Ghanam area, south of Tripoli.
Moreover, the United Nations Mine Action Service (UNMAS) announced that it has managed to remove or destroy 13,000 explosive items from Libya during 2021.
It noted that it has completed surveys of 500 square kilometers, in partnership with the Libyan Center for Mine Action and Remnants of War. It tweeted that it has provided awareness activities to 47,000 beneficiaries.