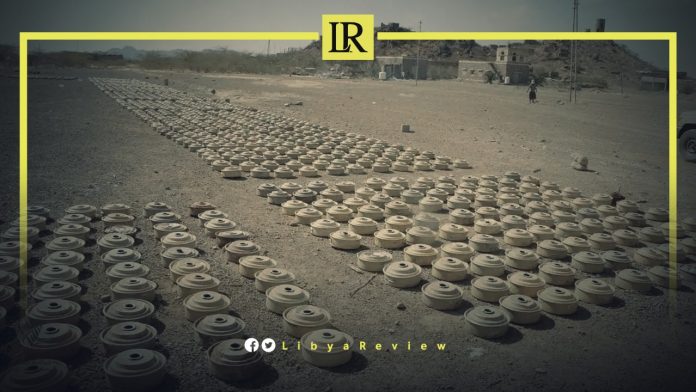 On Tuesday, the UN Mine Action Service (UNMAS) announced that it has managed to remove or destroy 13,000 explosive items from Libya during 2021.
The UN noted that it has completed surveys of 500 square kilometers, in partnership with the Libyan Center for Mine Action and Remnants of War. It tweeted that it has provided awareness activities to 47,000 beneficiaries.
UNMAS is a service within the United Nations Department of Peacekeeping Operations that specializes in coordinating and implementing activities to reduce the threat posed by mines, explosive remnants of war, and other explosive devices.
Earlier this month, the Explosives Bureau team at the Libyan Police's Technical Affairs Department cleared anti-personnel mines from a farm in the Ain Zara area of Tripoli.
The Ministry of Interior said in a statement that the team combed the farm, as they believed that mines had been planted extensively on the land.
This came after a report was received that three people had been killed on the farm, which has become known as the "death farm, according to the statement.
Last March, UNICEF said that estimates indicate that there are more than 500,000 people at risk in Libya due to war remnants. This includes 63,000 displaced people, 123,000 people who have returned to the areas from which they were displaced, 145,000 residents, and 175,000 migrants.
In September 2021, the US Embassy in Libya said that US military cooperation can help Libya improve its ability to remove unexploded ordnance, and help Libya recover from the conflict.
Military and civilian bomb technicians from around the world, including two representatives from Libya, came together in Iowa to share counter-IED expertise. "The effort ensures the safety of bomb-disposal technicians, as well as citizens under threat of land mines & explosive remnants of war," the US Africa Command (AFRICOM) tweeted.