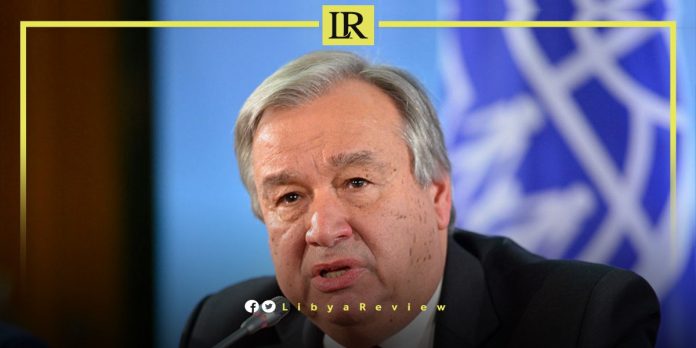 The United Nations Secretary-General, Antonio Guterres lamented the protracted conflicts on the African continent, including Libya, saying that "people are beginning to despair."
This came in a speech during the UN Security Council session on cooperation between the United Nations and the African Union. It coincided with the celebrations of the 20th anniversary of the AU's founding. The session was attended by the Chairman of the African Union Commission, Moussa Faki Mahamat.
"Cooperation between the UN and the AU is stronger than ever, however major challenges remain," Guterres told the Security Council.
He called on "leaders – in the Council, on the continent, and beyond – to spare no effort in supporting the AU so that it can achieve its goals."
Guterres added that the "continent has also seen an increase in unconstitutional changes of government, while affiliates of the extremist groups Daesh and Al-Qaeda are carrying out deadly attacks in the Sahel, and attempting to extend their reach. Furthermore, protracted conflicts and dire humanitarian situations continue to impact the Horn of Africa, Ethiopia, the eastern Democratic Republic of the Congo, Mali, Sudan, and Libya."
In his briefing to the Council, Faki said that Africa is "the most discussed issue at the United Nations".
"Some 70% of UN peacekeeping missions are located there," and he wondered "how many millions of dollars have been spent, and what has been the result. "
Faki, who participated via videoconference, said "Africa has made sacrifices in pursuing peace and security. Africa is still facing many challenges and we need things beyond declarations. We need to set a timeframe for discussing the future of Africa. The continent must also have access to the limitless universe of science and new technology," he said.