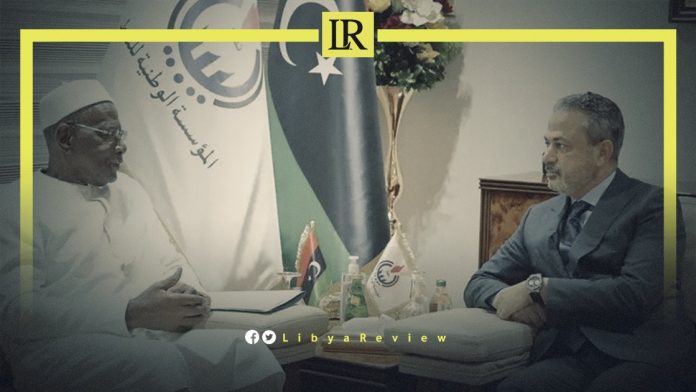 The Head of the United Nations Support Mission in Libya (UNSMIL), Abdoulaye Bathily met the Chairman of Libya's National Oil Corporation (NOC), Farhat Bengdara.
During the meeting, they discussed ways and means to enhance the independence of the NOC as a sovereign institution.
Last week, the NOC's headquarters in Tripoli was completely evacuated after a fire broke out, local media reports.
The fire broke out inside the technical room for the Corporation's archive information, branch C. No casualties were reported.
On Saturday, the NOC announced that crude oil production has reached 1,201,000 barrels per day. The corporation added that condensate production amounted to 49,000 barrels per day, during the past 24 hours.
The Libyan Ministry of Finance reported that Libya's oil revenues for 2022 have amounted to 77.17 billion Libyan Dinars (LYD) ($15.2 billion dollars).
In a statement, the Ministry of Finance added that the total turnover of the energy sector was 79.35 billion LYD ($15.7 billion dollars).
The statement revealed that, in the first nine months of 2022, the NOC signed agreements worth over 15 billion LYD (about $3 billion dollars).
In late September, Libyan Oil Minister, Mohamed Aoun directed the NOC to begin exploration of more blocs, both offshore and on land, in addition to developing existing discoveries.
During the Libya Oil, Gas, and Renewable Energy Exhibition, Aoun explained that this was an invitation for foreign and Arab companies to start investments in Libya. He added that it, "encourages foreign investors to see Libya, and develop the oil sector."
He noted that production at the end of 2022 will be close to the current daily production of crude oil, which is 1.2 million barrels per day (bpd).
The NOC's Chairman, Farhat Bengdara said that they plan to increase Libya's production of crude oil to 2 million bpd.
Bengdara held a meeting with the NOC's Budget Committee to follow up on the settlement of overdue salaries. They also discussed the NOC's three-year plan, according to the extraordinary budget.
Bengdara said that this "will be achieved in accordance with a 3–5 year medium-term plan, to increase crude oil production rates to two million bpd within available capabilities."