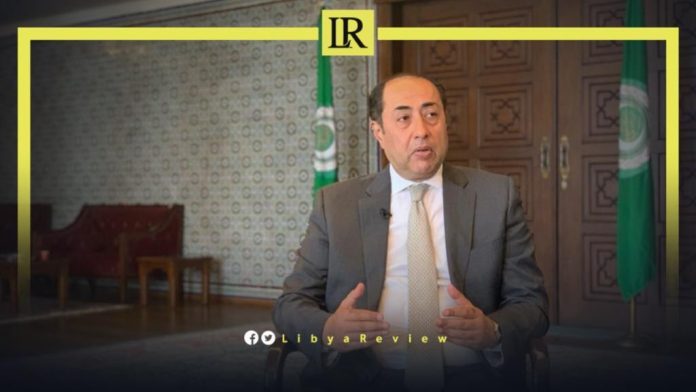 On Saturday, the Arab League's Assistant Secretary General Ambassador, Hossam Zaki, said that a number of draft projects and decisions included on the agenda of the Arab League's Summit in Algiers have been finalised.
The remarks were made during the meetings grouping the permanent delegates of the AL on Thursday.
In a press conference, Zaki pointed out that prolonged dialogues have been held to discuss solutions to the Libyan crisis. He noted that all decisions are complying with the outcomes of previous meetings held by the Arab Foreign Ministers in December 2021.
He also described the Libyan file as "extremely important" and a priority in the debates between Arab countries.
The Ambassador stressed that the AL has a clear vision for a way out of the crisis in this country. This position was expressed many times by the Arab League's Secretary General when he affirmed his firm stand equidistant from all the member countries to help the Libyans to get out of the current situation.
Zaki noted that a number of draft projects will be referred to the preparatory meeting of the Arab Foreign Ministers, which is due on Saturday. Such projects would be ready for floating to the leaders during the Arab summit, set for November 1st and 2nd.
On his part, the Director of the Administration of the Arab League at the Sudanese Ministry of Foreign Affairs, Bentahar Ezzine, insisted on the importance of the inter-Arab consensus for the establishment of a common Arab vision on major crises. Especially those related to the Palestinian cause, the crises in Libya and Sudan.
"What has been achieved so far is promising", he reassured, adding that "the will with which the Arab countries are armed will be crowned with victory and lead to the Arab consensus".
"Thirteen items are on the agenda, including the Palestinian cause as well as other issues related to Libya, Yemen, Somalia, and Sudan, said the Sudanese diplomat" who stressed that the Arab world was in search of "global solutions for a number of world food and energy crises", noting that the strategic project of food security was also on the agenda of the work.
He also stressed the importance of the summit in Algeria, as it has not been held in three years since 2019. This at a time when crises have worsened and some of them are still ongoing, indicating the importance of holding the summit at this time.