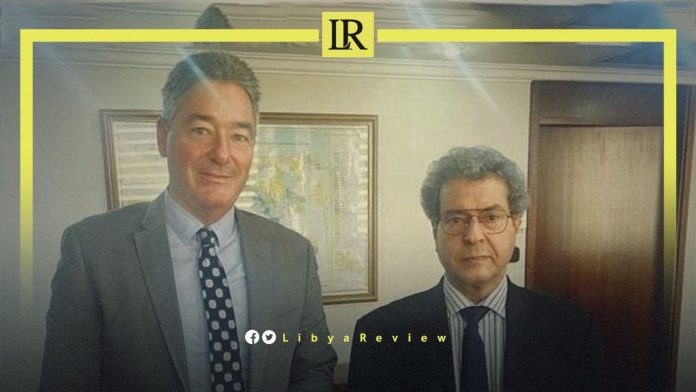 On Tuesday, German Ambassador to Libya Michael Ohnmacht confirmed his desire to "enhance cooperation and strengthen economic ties with Libya."
In a tweet, Ohnmacht added: "Today I discussed with Minister of Oil, Mr. Aoun the framework of cooperation between Germany and Libya in the energy sector and ways to strengthen our partnership in this field."
In October, Libyan Minister of Economy and Trade, Mohamed Al-Hwaij met with the German Ambassador to discuss aspects of bilateral trade and economic cooperation.
The meeting was held in the presence of the Libyan Undersecretary for Commercial Affairs, Suhail Boushiha. The two sides also discussed the problems and obstacles facing the return of German companies to Libya.
Al-Hwaij stressed the "keenness of his ministry and the relevant Libyan authorities to provide all facilities, overcome difficulties for German companies, and provide an appropriate work environment."
He also called for the German Embassy to resume its work in Tripoli, and begin issuing visas for Libyan citizens.
Ambassador Ohnmacht affirmed his desire to support Libya politically and economically, to reach Libyan Parliamentary and Presidential elections. He also affirmed Germany's keenness to support the development of small and medium enterprises, which will help contribute to the development of Libya.
In September, the German Director-General for Political Affairs and Special Envoy for Libya, Christian Buck reiterated Berlin's support for the new UN representative, Abdoulaye Bathily.
In a tweet, Buck said: "A particular privilege to meet and congratulate Dr Abdoulaye Bathily, the new UN Special Representative of the Secretary-General for Libya and Head of
the United Nations Support Mission in Libya (UNSMIL). Together with Ambassador Antje Leendertse, Head of the German Mission to UN (New York) today in New York. Buck confirmed that Berlin stands ready to support Bathily and his mission.
Ohnmacht also met with the Head of the Libyan High National Elections Commission (HNEC), Emad Al-Sayeh in September, and reiterated his readiness to provide technical and advisory support to HNEC.
"Germany's assistance would contribute to enhancing HNEC's readiness, and create a suitable environment for the holding of elections," according to a statement issued by HNEC.