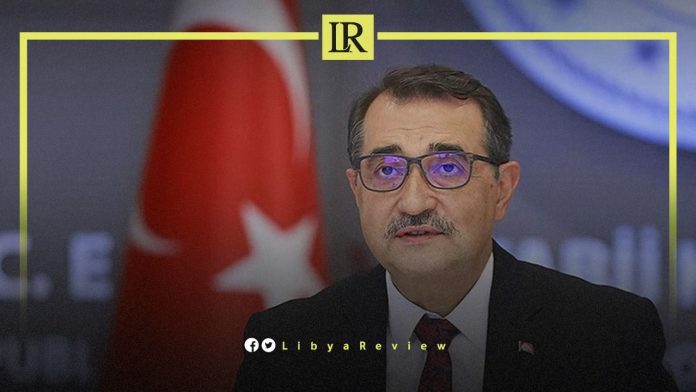 On Wednesday, Turkish Energy Minister, Fatih Donmez said that the Turkish-Libyan agreement for oil and gas exploration will "open new horizons for Ankara to become a partial supplier of natural gas to the world."
In press statements, Donmez said that "Libya is one of the countries with the largest oil and gas reserves, but still, it never had the opportunity to properly benefit from this potential due to ongoing internal conflicts and civil war." He claimed that Turkey has had a "crucial role in establishing peace and stability in Libya."
He highlighted that "investment and mining deals existed even before 2011," as he anticipated that the two countries are "heading towards more cooperation in oil exploration and production in onshore and offshore fields in Libya."
"If two free, sovereign countries agree on cooperation, I think that a third country should not raise any question," Donmez noted. He stated that the deal will "contribute to the development of Libya and solve the energy crisis at the regional and global levels. The goal is to create a transparent, safe, and profitable market for all."
Last month, Libya and Turkey signed a series of economic agreements that included potential energy exploration in maritime areas. The agreements will allow for oil and gas exploration in Libyan waters, and come three years after the two countries signed a maritime border deal, Turkish Foreign Minister Mevlüt Çavuşoğlu said after signing the MoU in Tripoli.
Notably, Egyptian FM, Sameh Shoukry said that the "outgoing" Government of National Unity (GNU) in Tripoli has been illegitimate since 24 December, and has no right to sign international agreements.
He urged the United Nations to announce its position on the legitimacy of the outgoing Libyan government. "We confirm the necessity of holding elections in Libya, and supporting the efforts of the Libyan Parliament," he added.
The MoU could fuel tensions and may lead to an open conflict between Ankara and Athens, according to the Politico newspaper.
Dendias accused Turkey of exploiting "the turbulent situation in Libya to further destabilize security in the Mediterranean region, and establish a regional hegemony."
Last month, Turkish President Recep Tayyip Erdoğan warned that his forces could "come down suddenly one night." Interpreting this as a direct threat to Greek islands, Dendias warned allies that they would need to crack down on Ankara or risk another Ukraine crisis.