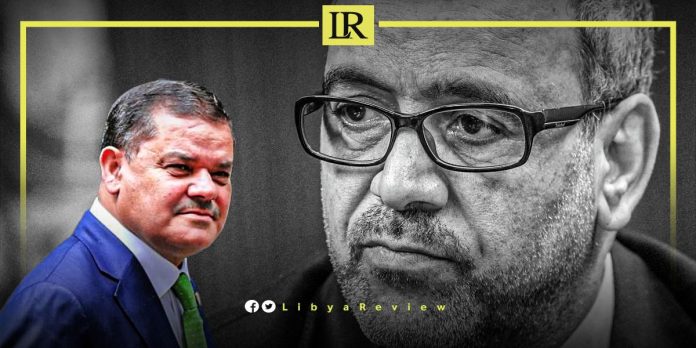 On Monday, the Head of Libya's High Council of State (HCS), Khaled Al-Mishri called on Attorney General, Al-Siddiq Al-Sour to "open an investigation into the Prime Minister of the Government of National Unity (GNU), Abdel-Hamid Dbaiba and prevent him from travelling until all investigations are completed."
Al-Mishri's call comes after a group of armed militias affiliated with the GNU, prevented members from holding a session devoted to discussing sovereign positions and the executive authority.
According to the complaint filed by Al-Mishri, he accused Dbaiba of "violating the state authorities and preventing them from carrying out their duties." As well as "hindering the political process leading to elections, abusing his powers, and violations against the political rights of Libyan citizens."
The HCS published pictures of military vehicles in front of the entrance to the hotel, which was to host its session in the capital, Tripoli. The session was devoted to listening to the report of the Committee on Sovereign Positions in the Council, and discussing mechanisms for unifying the executive authority.
Last week, Al-Mishri affirmed the need for a unified government to be capable of extending its influence over the whole country and holding national elections.
This came during a meeting with the US envoy to Libya, Richard Norland, and the Chargé d'Affairs of the US Embassy, Leslie Ordman, in the capital, Tripoli. Al-Mishri briefed the US diplomats on the HCS's efforts to achieve stability and end the transitional stages by completing the vote on the constitutional base.
"Al-Mishri made it clear that holding acceptable elections requires an executive authority capable of extending its influence over the whole country backed by a unified supervisory authority," the HCS said in a statement.
Notably, the Libyan Parliament Speaker, Ageela Saleh, and Al-Mishri agreed to unify the executive authorities of Libya by 2023. They held a meeting in Morocco to discuss the political blockage, the constitution, and the distribution of sovereign positions.
During a joint press conference at the headquarters of the Moroccan Ministry of Foreign Affairs, Al-Mishri said: "2023 will not come unless the executive authority and sovereign positions are united."
Libya is politically torn between Fathi Bashagha, who was elected by the Libyan Parliament to lead the country in February, and the Prime Minister of the Government of National Unity (GNU) Abdel Hamid Al Dbaiba, who refuses to relinquish power.
Tensions have been rising for months in Libya as the two Prime Ministers vie for power; rising fears of renewed conflict two years after a landmark truce.