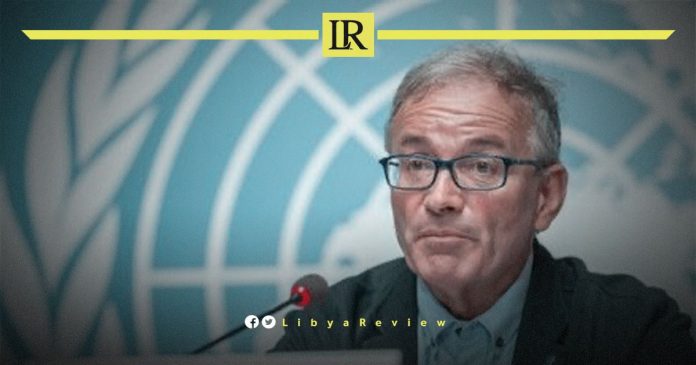 The Special Envoy of the United Nations High Commissioner for Refugees (UNHCR) for the Western and Central Mediterranean, Vincent Cochetel said setting up large refugee camps in Libya "could be the last option for the migration crisis."
According to a special report by Italy's Nova, Cochetel is considering new solutions to address the migrant crisis, describing the current voluntary transfer system in Europe as "dead".
The report added that there is a belief by the majority of European countries that "resettlement, as it was conceived and currently on the table, cannot work without restrictions on freedom of movement."
It also referred to the political agreement dated 10 June 2022, which provides for a voluntary solidarity mechanism for the transfer and distribution of migrants. The agreement provides for the resettlement of about 10,000 immigrant asylum seekers annually.
According to Cochetel, European states are discussing another option, which is the return of large refugee camps to Libya. The plan has not worked in the past, but according to Cochetel, "this may be the only option."
However, Libyan analysts warned that these camps "will be used by militias to consolidate their presence, as well as by foreign countries to determine who takes power in Libya."
They have expressed their fears to Sky News Arabia about the possibility of establishing refugee camps, and what they would bring about in terms of living and security problems.
Disputes rose between Rome and Paris after Italy refused to receive a ship carrying migrants. The French government was forced to accept the boat, provided that those who did not meet the conditions for asylum were immediately deported.
Italian Prime Minister, Giorgia Meloni has begun implementing a strategy she promised during her campaign, preventing the influx of migrants.
Italian Foreign Minister, Antonio Tajani revealed an aspect of this strategy when he said refugee camps could be established in Libya and other countries, used by migrants to depart for Europe.
Libyan political analyst, Ibrahim Al-Fitouri is "surprised by Rome's hinting at giving money to Libya." He said that the oil-rich country "does not need European money to be forced to receive refugees. Human disasters will occur inside the camps as a result of the military clashes taking place in the country," Al-Fitouri told Sky News Arabia.
Political analyst, Sultan Al-Baroni noted that France does not approve of Italy's cooperation with Libyan militias in preventing the departure of migrants to Europe. "There is no solution to the migration crisis except by unifying a strategy that ends the problem, otherwise it will worsen, and the price will be paid by Libya and its neighbours," he stressed.