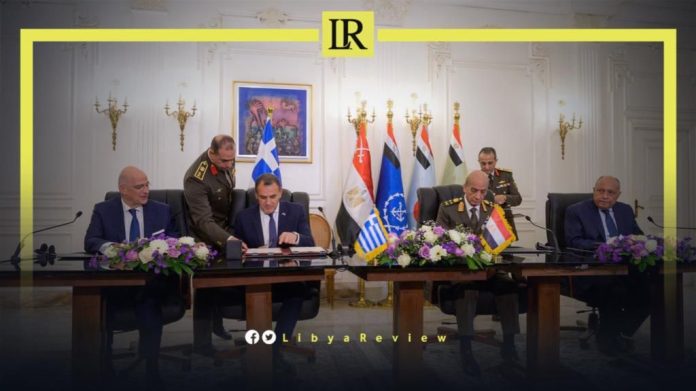 On Tuesday, Greek Foreign Minister, Nikos Dendias met his Egyptian counterpart, Sameh Shoukry in Cairo.
The two ministers discussed the latest developments in Libya, the eastern Mediterranean, and the Middle East. As well as ways to strengthen the long-term strategic relations between Athens and Cairo.
Days ago, Dendias said the Libyan Government of National Unity (GNU), led by Abdel-Hamid Dbaiba is "usurping power and using the country's resources."
In an interview with Greece's TANEA newspaper, Dendias said he had agreed with the Head of the Presidential Council, Mohamed Al-Mnifi to hold a meeting in Tripoli, without any communications with the GNU, "But the agreement was not kept (so I left)."
Dendias cancelled his trip to the Libyan capital, minutes after arriving at Tripoli's Mitiga International Airport. After the plane landed, his Libyan counterpart Najla Al-Mangoush was waiting to receive him, "the Greek FM refused to disembark the plane, and returned to Athens without any clarifications," according to a statement. However, Libyan local media reported that Dendias redirected his plane to Benghazi, in Libya's east, where the Libyan Parliament and the rival Bashagha government are located.
He added that the GNU "has a limited mandate and has no right to sign agreements." He referred to the position of the United Nations, stressing that the government is not authorized to sign agreements.
When asked if his decision to immediately leave Tripoli was a matter of symbolism or of substance, the Greek FM said: "Absolutely both of them. It is not possible to do what we do not see. The other thing is that there is an understanding with the Egyptians," he added.
Dendias claimed that the GNU "doesn't want meaningful contact" with Greece. "They say that this government should hold elections, but it didn't. It is usurping power, and using Libya's resources to sign with the Turks," he added.
He said the purpose of the visit was to maintain a strong relationship with eastern Libya. The Libyan Parliament has repeatedly voiced its rejection of the hydrocarbons memorandum with Turkey.
"Field Marshal Haftar was absolutely on the line that we would like them to be. Haftar and Parliament Speaker, Ageela Saleh emphasized that the Turkish presence is harmful and unacceptable," Dendias noted.