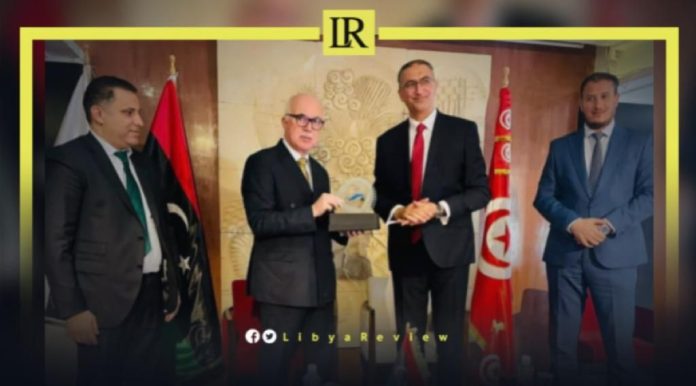 The Libya and Tunisian Administrative Control Authorities signed a memorandum of understanding (MoU) to enhance cooperation.
The MoU aims to "build bridges of joint cooperation, exchange experiences, consultations, training courses, joint research and studies in the regulatory field, visits, publications and information, to review work methods, experiences, and expertise of common interest."
In a statement, the Libyan Administrative Control Authority said that the signing of the agreement "comes within the framework of the authority's endeavour to widen the horizon of joint international cooperation with its counterparts from specialized technical oversight bodies and institutions, in other countries.
The signing ceremony took place in Tunisia, between the Administrative Control Authority, represented by its President, Suleiman Al-Shanti and the Higher Authority for Administrative and Financial Control in Tunisia, represented by its President, Emad Al-Hazqi.
The event was attended by the Chargé d'Affaires of the Libyan Embassy in Tunisia, Mustafa Kadara and the Consul General in Tunisia, Fadel Al-Qariou and delegates from the two bodies.
"This agreement comes in line with the authority's vision and directives in improving the performance of the functional staff. This will strengthen and consolidate solid foundations, and benefit from the experiences of oversight bodies and institutions in friendly and neighbouring countries," Al-Shanti said.
He pointed out that "the agreement is similar to ones signed with other Arab countries, such as Jordan."
Last week, Libya and Tunisia signed an MoU on bilateral trade cooperation.
The MoU was signed by the Libyan Economy Minister, Mohamed Al-Hwaij and the Tunisian Minister of Trade and Export Development, Fadhila Rabhi.
The agreement also includes the possibility of "establishing a joint border economic zone, lifting all restrictions on the movement of goods between the two countries, facilitating the financial and administrative procedures of Libyan businessmen in Tunisia, and forming a joint working group for food and drug security between the two countries," added the statement.
The MoU also "invites Libyan and Tunisian businessmen to take part and invest in infrastructure projects in both countries, facilitating the flow of goods of foreign origin imported to Libya through the ports of Tunisia, and so on," the statement said.
The agreement was signed during a visit by a Tunisian delegation including the Ministers of Industry, Energy, Transport and Trade, and the Director of the Tunisian Company for Refining Industries.