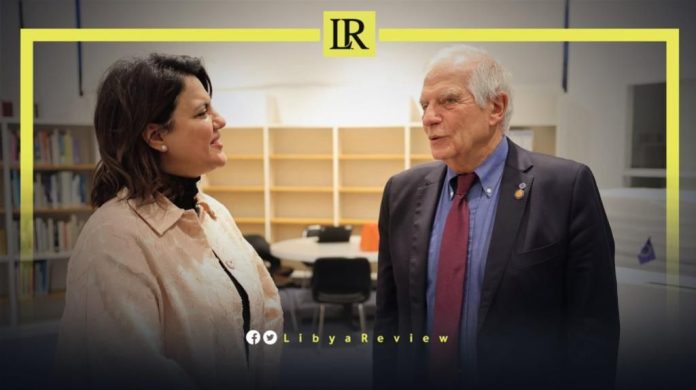 On Thursday, the Libyan Minister of Foreign Affairs, Najla Al-Mangoush held a meeting with the European Union's High Representative for Foreign Affairs, Josep Borrell to discuss the situation in Libya.
The meeting came on the sidelines of their participation in the 7th Regional Forum of the Union for the Mediterranean in Barcelona.
Al-Mangoush expressed Libya's firm position "rejecting any provocations targeting its sovereignty, or undermining bilateral relations with neighbouring countries in the Mediterranean." This was an implicit reference to Libya's tensions with Greece.
"The meeting also reviewed the latest developments in the regional and international arena," the Libyan MoFA said.
On his part, Borell stressed that maintaining the stability and security of Libya remains one of the EU's top priorities.
He affirmed the EU's unwavering support for holding Presidential and Parliamentary elections in Libya as soon as possible, as it is the only way out of the current stalemate.
On the sidelines of the conference, Al-Mangoush held talks with a number of her European and Mediterranean counterparts, including Malta's Ian Borg, Slovenia's Tanja Fajon, and other foreign diplomatic representatives, according to the Libyan Foreign Ministry.
Founded in 2008, the Union for the Mediterranean is an intergovernmental organisation of 43 member states from Europe and the Mediterranean Basin: the 27 EU member states and 16 Mediterranean partner countries from North Africa, Western Asia, and Southern Europe.
The Union has the aim of promoting stability and integration throughout the Mediterranean region. It is a forum for discussing regional strategic issues, based on the principles of shared ownership, shared decision-making, and shared responsibility between the two shores of the Mediterranean.
On Wednesday, Borrell said that "there is no room for optimism that a possible agreement on elections in Libya would be reached soon."
Addressing an EU Parliament session, Borrell said that the Bloc and its international partners "can make a difference by proactively supporting mediation efforts. In addition to urging all Libyan parties to enhance dialogue and reach consensus over the constitutional basis for elections."
He stressed the need to withdraw all mercenaries and foreign forces from Libya. "We all also must support the work of the UN Envoy and Libyan stakeholders to outline a new joint roadmap towards elections. There is broad consensus on the dire need to reach a Libyan-led inclusive solution to the current political stalemate" Borrell noted.
The EU official hoped that the UN Envoy to Libya Abdoulaye Bathily would be able to "create a new positive dynamic for all Libyan actors to work together," stressing that he should "also focus on developing a strategy to resume a political framework for negotiations. This requires building a coherent umbrella for the political process in Libya, with the support of the European Union."