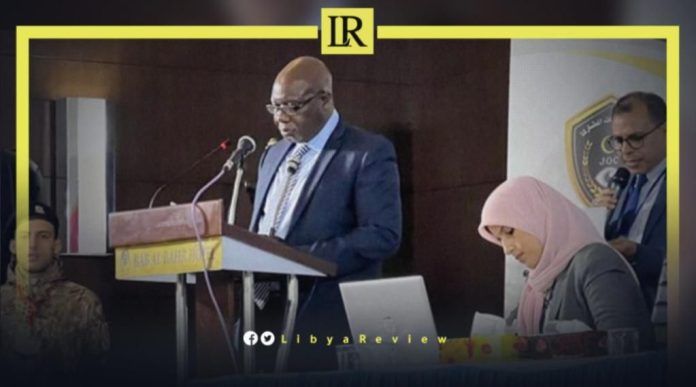 On Monday, Deputy Special Representative of the United Nations for Political Affairs in Libya, Raisedon Zenenga attended a workshop on "State Monopoly on Weapons in Libya", organised by the Joint Operations Centre.
UNSMIL tweeted that, "Zenenga highlighted the challenge posed to the safety and security of Libyans and to the reunification of State security institutions by the proliferation of weapons in the country, under the control of various state and non-state actors."
It added that Zenenga "underscored the need for progressive steps to bring weapons under the control and responsibility of the Libyan State, which can exercise their use in a legitimate and accountable manner, aimed at providing security to the Libyan people under the rule of law."
He reiterated the UNSMIL's "continued support to Libyan-led efforts on SSR, DDR, the withdrawal of foreign forces, foreign fighters, and mercenaries and the disposal of remnants of war and unexploded ordnance."
Notably, the Egyptian Foreign Minister, Sameh Shoukry received the UN Envoy and Head of the United Nations Support Mission in Libya (UNSMIL), Abdoulaye Bathily on Monday.
Shoukry expressed Cairo's "full support for restoring stability in Libya, and the centrality and impartiality of the role of the United Nations, which helps it gain the confidence of the parties inside Libya, and in the international community."
He briefed Bathily on Cairo's "continuous efforts to resolve the crisis, as Egypt has hosted rounds of the constitutional track between the Libyan Parliament and the High Council of State (HCS)."
The Egyptian FM affirmed the need to hold Presidential and Parliamentarian elections simultaneously, in order to end the crisis and achieve the aspirations of the Libyan people. "The solution should be Libyan-Libyan, and the elected Parliament should be respected."
Shoukry also stressed the need to implement UN and international decisions regarding the exit of all foreign forces, mercenaries, and foreign fighters from Libya within a specific time. He underlined the importance of supporting Libya's 5+5 Joint Military Commission (JMC).
For his part, Bathily expressed his aspiration to coordinate with Egypt during the coming period.
He agreed on the need to intensify work towards advancing a Libyan-led political solution, in order to achieve security, stability, and prosperity in Libya.