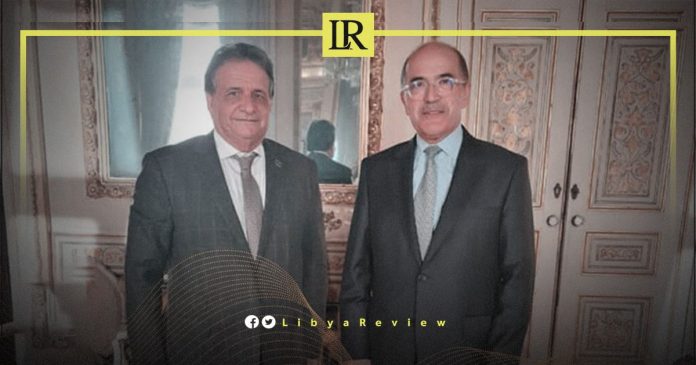 Saad Aqoub Arhim, the Libyan Ambassador to Portugal met with Ambassador George Silva Lubech, the Director of the Portuguese Protocol Department, in Lisbon.
According to the statement by the Libyan Embassy, "many important issues were discussed, including the resumption of the Portuguese Embassy's work in Libya."
The statement stressed that the reopening of the embassy "has an important role in consolidating relations and facilitating visa procedures between the two countries."
The meeting also touched on working to open direct air routes, and activating maritime transport. They also discussed ways to "activate trade and economic exchange at all levels to support stability."
Notably, the former Spokesman for Libya's High Council of State (HCS), Al-Senussi Ismail Al-Sharif stated that he believed that there would be a reformation of the Libyan Political Dialogue Forum (LPDF).
He said in a press statement that the step "aims to get out of the current crisis and break the political stalemate." He explained that the forum will consist of "members of the Libyan Parliament, the HCS, and representatives of active political, social, and military parties."
Al-Sharif expected that the number of the new forum "would be small, compared to the members of the previous forum, which consisted of 72 members. This may enhance the achievement of a political settlement, whereby an agreement is reached by unifying the executive authority."
"This step contributes to unifying sovereign institutions, agreeing on a constitutional basis, and setting the date for legislative and Presidential elections," he added.
The LPDF is a UN-backed intra-Libyan series of meetings that started in late 2020, aiming to reach agreements on elections and to "democratic legitimacy of Libyan institutions." On 18 January 2021, LPDF members participated in a vote on the 16 January proposal for a unified executive authority selection procedure.
On 5 February 2021, the procedure resulted in the election of Mohamed Al-Mnifi as Head of the Presidential Council, with Musa Al-Koni and Abdallah Al-Lafi as Deputies. As well as Abdel-Hamid Dbaiba as Prime Minister.
On 10 February 2022, the Libyan Parliament announced the unanimous appointment of Fathi Bashagha as the new Prime Minister. But Dbaiba warned that the appointment of a new interim government could lead to war and chaos in the country. He renewed his pledge to only hand power over to an elected government.
HCS Head, Khaled Al-Mishri and Parliament Speaker, Ageela Saleh agreed to unify the executive authorities of Libya by 2023. They held a meeting in Morocco to discuss the political blockage, the constitution, and the distribution of sovereign positions. During a joint press conference at the headquarters of the Moroccan Ministry of Foreign Affairs, Al-Mishri said: "2023 will not come unless the executive authority and sovereign positions are united."