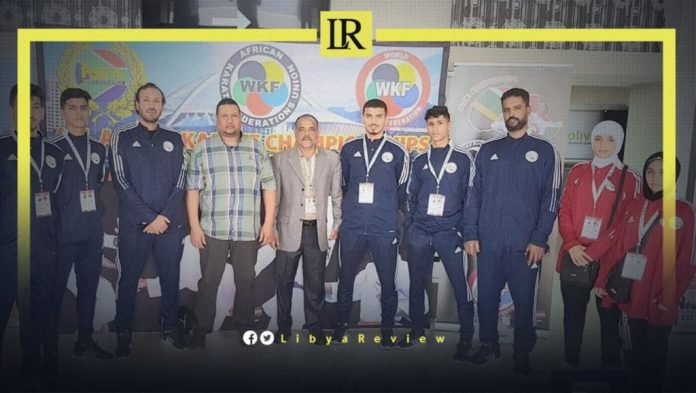 The Libyan karate team was crowned with a gold medal, a silver one, and three bronze medals in the 2022 African Karate Championships.

The championship was held in South Africa, where the golden medal came from the player, Salma Al-Maadani, in the middle category, in the weight of more than 54 kilograms.

The three-day event features senior, junior and cadet competition involving nearly 400 athletes from 22 African countries.

As the tournament returns to the African East coast after 15 years, the African Karate Federation (UFAK) gathering in Durban is expected to continue the progress of the sport in the continent.

The event will take place in the Olive Convention Centre in Durban.

The last edition of the UFAK Championships was held in Cairo in 2021, when the hosts topped the medals table with a total of 38 medals including 26 gold.

In October, Libyan weightlifter, Ihsan Ali Shalabi, won two silver and one bronze medal in the 73 kilogram weight category in the African Senior Championship, held in Egypt from October 26th to November 1st.

Shalabi also won silver in the African Club Cup competitions, as the first Libyan athlete to win a medal in the African club championships organised for the first time.

Libya participated in the African Weightlifting Championships for adults, which was held in Cairo, with three weightlifters, Ihsan Shalabi, Ahmed Abu Razbeya, and Omar Al-Ajmi Mohamed.

In the same month, the Libyan champion, Bashir Al-Duwaibi, won the bronze in the World Karate Championship in the under 63 kilograms after defeating the champion of Uzbekistan, in the tournament held in Turkey.

This was the first Libyan international medal in karate. Al-Duwaibi won in the first rounds of the tournament in 4 matches against the Spanish champion with a score of 1-2, and against the Japanese champion with a score 3-0.

The Libyan athlete also defeated the Moroccan champion 3-2, and the Albanian champion 4-0.