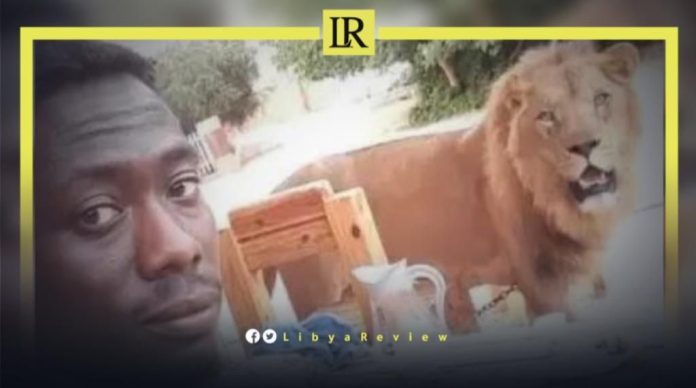 A Libyan man killed his lions after they attacked a Sudanese worker and killed him on a farm located in the Bohadi area in Benghazi city. The death occurred in a terrible incident that sparked widespread controversy about the growing phenomenon of wild animals breeding in Libya.
Local sources said that the Sudanese worker was mauled by the lions he was caring for. He did not manage to escape despite his attempt to defend himself, but he died as a result of the severe injuries he sustained.
The incident sparked widespread controversy on social media, amid calls for an end to the breeding of predatory animals in the country.
In turn, activist Ibrahim Al-Jazwi said that such wild animals must be kept in public zoos not inside homes and private spaces. He called on the authorities to issue laws that prevent the breeding of predatory animals and impose penalties on violators.
On her part, Zainab Salem called for confiscating all predatory animals that some families raise in their farms and homes without any means of safety, in order to avoid such terrible incidents occur again in the future. The wildlife of Libya is spread over the Mediterranean coastline and encompasses large areas of the Saharan desert.
The protection of wildlife is provided through appropriate legislation in seven national parks, five reserves, 24 protected areas, two wetlands under Ramsar Convention and in other areas.
Apart from these, there are also five UNESCO World Heritage Sites related to culture. The most important national parks are the El-Kouf National Park and Karabolli National Park. The well-known nature reserves are the Benghazi Reserve and the Zellaf Reserve.
Libya's natural national assets are nearly 2,000 kilometers (1,200 mi) of coastline and the vast Sahara desert which is the semiarid and arid region to the south. Its hills, ponds, and coastal habitats which comprise coral reefs, mangroves, sea grass beds, salt marshes, and mud flats add to its biodiversity. Some of the sites are important for migratory birds.