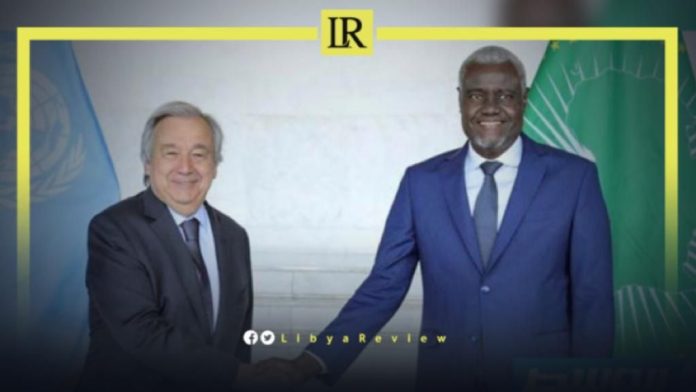 The United Nations Secretary-General, António Guterres and the African Union (AU) Commission Chairman, Moussa Faki Mahamat discussed the latest developments in the Libyan crisis.
This came at the 6th African Union-United Nations Annual Conference held in Addis Ababa, Ethiopia. Both sides agreed to "continue working closely with Libyan stakeholders to sustain the ceasefire agreement and enhance its implementation."
They also agreed to continue supporting the ongoing Libyan-owned and led political process, facilitated by the United Nations. As well as agreeing to support efforts by the AU to organise the national reconciliation conference.
On the Sahel region, they expressed concern over the recent unconstitutional changes of government, and reiterated their commitment to jointly support peaceful and timely return to constitutional order.
Faki and the Guterres further expressed their deep concern over the deteriorating security and humanitarian situation. As well as the growing threat posed by terrorism and violent extremism in the region. They underscored the importance of addressing the underlying conditions conducive to the spread of terrorism.
They reaffirmed their commitment, in partnership with ECOWAS and the G5 Sahel, to support the Independent High-level Panel on Security and Development in the Sahel, under the leadership of Niger's Former President, Mahamadou Issoufou. They also welcomed the momentum generated by the Accra Initiative, to address the security challenges in West Africa, and called for enhanced cooperation among countries in the region in the fight against terrorism.
The two officials welcomed the continuing cooperation and collaboration between their organisations, and reviewed the progress in implementing the "UN-AU Joint Framework for Enhanced Partnership in Peace and Security" and the "AU-UN Framework for the Implementation of Agenda 2063 and the 2030 Agenda for Sustainable Development."
They noted the considerable progress made, while acknowledging that recent global developments, including the COVID-19 pandemic which have set back peace, security, and development efforts.