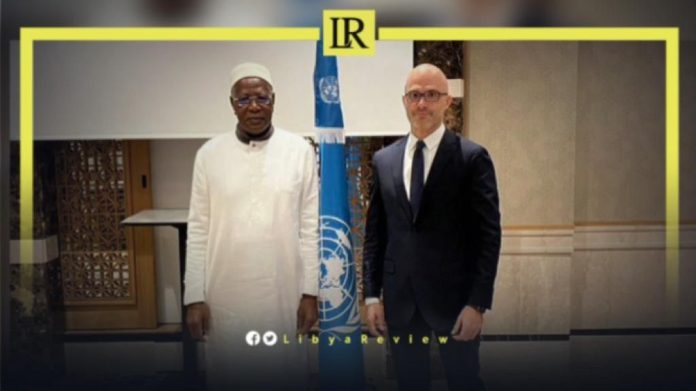 On Wednesday, the Head of the United Nations Support Mission to Libya (UNSMIL), Abdoulaye Bathily met the Italian Special Envoy for Libya, Nicola Orlando in Tunis.
"I had the privilege of meeting in Tunis. I confirmed Italy's respectful support to his mediation of a Libyan path towards elections leading to a consensual & inclusive executive & the equitable use of national resources," Orlando tweeted.
He also praised the Bathily's "comprehensive consultations and his efforts to complete the constitutional base as a prerequisite for elections. I stressed the need for the institutions and their leaders to put the people's democratic aspirations before their particular interests."
Earlier today, Italian Prime Minister, Giorgia Meloni stated that, "Libya's stability is an absolute priority of Italy's strategy, as it is an essential element to ensure the security of the entire region. We are ready to do our part to achieve this stability in support of the United Nations, while respecting Libyan sovereignty."
During her speech at the conclusion of the eighth edition of the Rome Med – Mediterranean Dialogues conference, Meloni said that "the full and lasting stabilisation of Libya is a national security priority. From here we address the invitation to Libyan political actors to commit themselves to equip the country with solid and democratically legitimised institutions."
Meloni added that Italy is "strongly committed with this government to strengthening its role in the Mediterranean. In fact, only by creating a space of stability and shared prosperity will we be able to face the epochal challenges we face."
The Italian Prime Minister said that, "it is necessary to make use of an extended meaning of security, which also includes actions to safeguard the human, cultural, environmental, energy and food dimensions."
Last month, the Italian Deputy Prime Minister and Minister of Foreign Affairs, Antonio Tajani called for working towards the stability of Libya, "before talking about the issue of confronting illegal immigration."
Tajani criticized Europe's handling of the Libyan crisis, "as it was too late and did not create a unified strategy, while Libya was dragged into chaos," in an implicit reference to the role of former French President, Nicolas Sarkozy.
He suggested starting to invest in relations not only with the Libyan authorities, but also with sub-Saharan Africa. "We must avoid neo-colonialism and build strong alliances, through which we create mixed companies to build infrastructure with our resources, in exchange for low-cost raw materials."