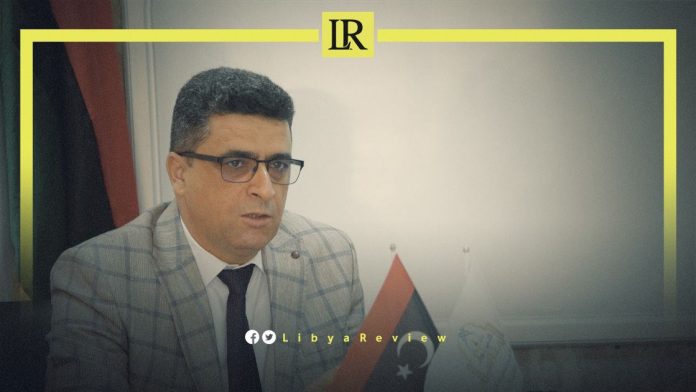 The Head of the Libyan Audit Bureau, Khaled Shakshak stressed the need for governmental and official institutions to prepare their final accounts, within three months of the end of the fiscal year.
Shakshak directed his correspondence to government institutions, in which he stressed the necessity of "not expanding government spending during the last month of the year, to deplete the remaining balances, and limiting spending to what is necessary."
Shakshak pointed out that they "must be committed not to disburse any sums of money after closing the books and accounts at the end of the year, and not to prepare transactions with previous dates or retroactive effect."
Shakshak adhered to the necessity of "not exceeding the established appropriations," stressing that "engagement and contracting are within the limits of those appropriations."
He said that the value of contracts during the past year amounted to 35 billion LYD, despite the fact that the approved development budget was only 17 billion LYD.
In a television interview, Shakshak asked "how were contracts worth a greater amount than the value of the approved budgets signed?"
With regard to the Audit Bureau's report for 2021, Shakshak explained that they are "obligated to publish audit reports every year, and that this report is not the first, nor will it be the last."
In September, the Bureau issued its annual report for the year 2021. It monitored wholesale violations found in the Government of National Unity (GNU), the Central Bank of Libya (CBL), and the National Oil Corporation (NOC).
The report, which was composed of 18 chapters, monitored the financial situation of the country and the results of reviewing and evaluating the performance of various sectors.
Among the violations of the GNU, large sums of money were spent from the emergency expenses band, unrelated to the nature of the account, such as booking travel tickets and hotel accommodation.
The GNU Cabinet Office spent 12 million Libyan dinars to buy watches as gifts for the guests of Prime Minister, Abdel-Hamid Dbaiba. As well as the maintenance and cleaning expenses for Dbaiba's suite, which amounted to 1.6 million LYD per month.
The government also directly assigned contractors for development projects, as an alternative to public tenders. This is a clear deviation from the principles of integrity and transparency, and in violation of the organising regulations and legislation.
The entities which received these funds evaded the Audit Bureau review. These funds amounted to about 20 billion LYD, representing contractual commitments that have no financial coverage.