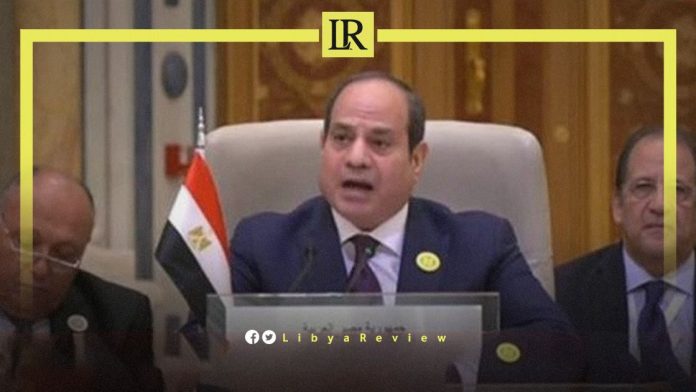 On Friday, the Egyptian President, Abdel-Fattah El-Sisi, called for accelerating the settlement of the crisis in Libya. He made these remarks during his speech at the Arab-Chinese summit in Riyadh.

El-Sisi affirmed the importance of Arab-Chinese cooperation, saying that it was based on facing challenges and the priority of international security.

The Egyptian President stressed that coordination with China must be increased to address international and regional crises. He stated that the path of settling crises in Libya, Syria and Yemen must be accelerated. "The dialogue of civilisations and the right of peoples to self-determination without interference must be promoted," he added.

The opening session of the summit was chaired by Saudi Crown Prince, Mohammed bin Salman, on behalf of Saudi King , Salman bin Abdulaziz, along with Chinese President, Xi Jinping.

Notably, the Supreme Council of the Gulf Cooperation Council (GCC) called on the Libyan parties to adopt political dialogue to resolve differences in a way that preserves Libya's interests and achieves its people's aspirations.

This came in the final communique of the GCC's 43rd session in Riyadh, Saudi Arabia, on Friday, according to the Saudi Press Agency (SPA).

The Supreme Council of the GCC reaffirmed the need to stop interference in Libya's internal affairs, for the exit of all foreign forces and mercenaries from Libyan territory, and support to the United Nations (UN) efforts to reach a political solution, hold elections and unify state institutions.

The GCC expressed concern about the repeated outbreak of armed clashes in the Libyan territories, which threatens the security and safety of the Libyan people and undermines the
stability of the country.

It affirmed the stance of the GCC states in support of Libya and the political track and relevant UN Security Council resolutions to preserve its security, stability, and sovereignty. The statement called on all Libyan parties to halt the clashes in a way that guarantees the cessation of escalation and stop the bloodshed.

The GCC welcomed the appointment of Abdoulaye Bathily as UN Special Representative for Libya, wishing him success in reaching a political solution agreed upon by the Libyan parties.