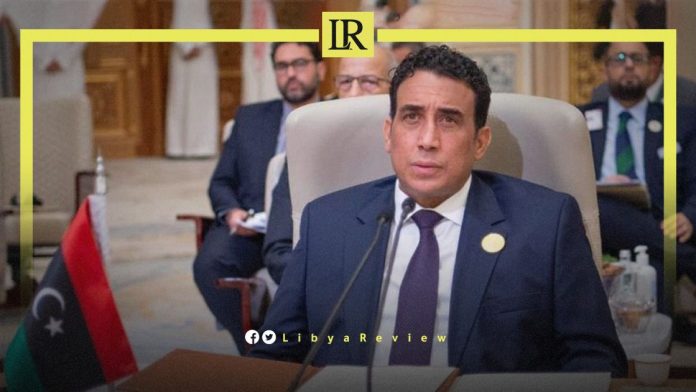 On Saturday, the Head of the Libyan Presidential Council, Mohamed Al-Mnifi, held a meeting with the President of China, Xi Jinping, on the sidelines of the first China-Arab Summit that was held in the Saudi capital.

During the meeting, the two parties reviewed the return of Chinese companies to work in Libya and to contribute to enhancing the development of the North-African country, according to a statement by the Preisdential Council's Media Office.

On his part, the Chinese President affirmed that the resumption of Chinese companies' work in Libya is closely linked to the country's stability and security.

Al-Mnifi also stressed that "achieving stability and security requires the support of the friendly state of China, to move forward in achieving the electoral process, ending the transitional stages, and achieving comprehensive national reconciliation."

Notably, Libya's Oil Minister, Mohamed Aoun, recently praised the "historic" commercial and economic relations with China, saying his country has had friendly relations with all key actors in East and West.

In an interview with Libya Review in July, Aoun said that several Chinese companies entered the oil sector in Libya, and they still buy some shipments of Libyan oil.

"We are a developing country with vast lands and in need of having competitive prices. It is good for Libya to have friendly economic and commercial bilateral relations with China," Aoun said.

He noted that several Chinese companies entered Libya during the previous regime, especially in the field of housing projects and others. "Beijing also has constructed electric power lines, so it has vast capabilities and we can benefit from it," he explained.

"Chinese prices are reasonable when you compare them to the equipment coming from western countries. Their (Chinese) prices are very competitive and reasonable for the Libyan state," the Minister added.

The Libyan Minister said his country is rich in natural resources and it needs companies to build plants for cement, steel, gold refining, uranium, solar power, and renewable energy. He invited Western and Eastern companies to bid for these big projects in Libya. "They can come to Libya and compete for the establishment of these projects."

Libya has been in chaos since a NATO-backed uprising toppled longtime leader Moammar Gaddafi in 2011. The county has for years been split between rival administrations, each backed by various militias and foreign governments.

The current stalemate grew out of the failure to hold elections in December, and the refusal of Prime Minister, Abdelhamid Al-Dbaiba to step down. In response, the country's eastern-based Parliament appointed a rival Prime Minister, Fathi Bashagha, who has for months sought to install his government in Tripoli.