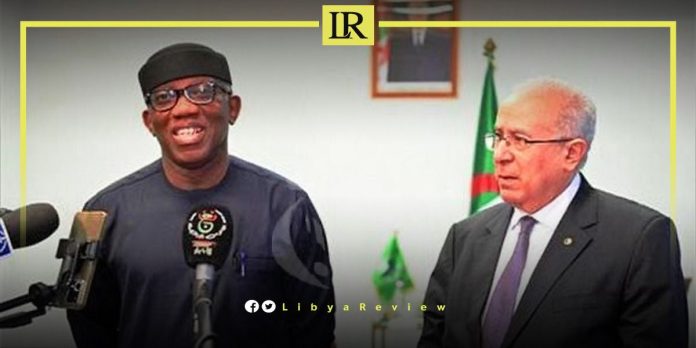 On Saturday, the Algerian Minister of Foreign Affairs and National Community Abroad, Ramtane Lamamra, held talks with the African Union (AU) Commissioner for Political Affairs, Peace and Security, Bankole Adeoye, to discuss regional political and security files in the African continent, especially the situation in Libya.

During the meeting, which was held in the coastal city of Oran in Algeria, Adeoye and Lamamra reviewed the latest political developments in Libya and ways to restore it to the constitutional order. They also highlighted the AU's readiness, along with Algeria, to reach solutions that support peace and security in the region, especially in Libya.

They agreed on the need to hold general elections as the only solution to restore stability.
Lamamra indicated that the only way out of the Libyan crisis is "by holding prompt elections, and to give the floor to the Libyan people. This is in order to build a foundation for a democratic state."

Last week, Algerian President, Abdelmadjid Tebboune, held a telephone conversation with Congolese President, Denis Sassou-Nguesso, the AU's representative to Libya, during which, he underlined Algeria's support for national reconciliation in Libya.

He also expressed his hope for "success in the achievement of this noble goal, and the creation of a climate conducive to the holding of the elections."

Tebboune and Sassou-Nguesso also agreed on "strengthening the role of security authorities in combating terrorism, and maximising international efforts to expel all foreign forces and mercenaries from Libya."

In October, Algeria's Permanent Representative to the Arab League (AL), Abdel Hamid Shabira reiterated his support for "ending the Libyan crisis by holding prompt parliamentary and presidential elections."

In press statements, the Ambassador stressed Algeria's firm position of respecting Libya's sovereignty and territorial integrity.

He also urged all Libyan parties to "engage in direct dialogue, and agree on holding elections as soon as possible, in order to put an end to the decade-long crisis."

"Our goal is to maintain the unity of Libya and act to unify its security and political institutions, and to prevent the aggravation of division," the diplomat added.

With regard to the Arab Summit which was held between the 1st and 2nd of November in Algeria, Shabira noted that "it will be an important event, as it will reach resolutions that reflect collective Arab stances toward crises, such as in Libya, Syria, Yemen, Sudan, Somalia, and Lebanon."

Libya has been in chaos since a NATO-backed uprising toppled longtime leader Moammar Gaddafi in 2011. The county has for years been split between rival administrations, each backed by various militias and foreign governments.

The current stalemate grew out of the failure to hold elections in December, and the refusal of Prime Minister Abdelhamid Al-Dbaiba to step down. In response, the country's eastern-based Parliament appointed a rival Prime Minister, Fathi Bashagha, who has for months sought to install his government in Tripoli.